Children from Columbia Lighthouse for the Blind to Tour Cavalia's 'Odysseo'
10/29/2013, 6:03 a.m.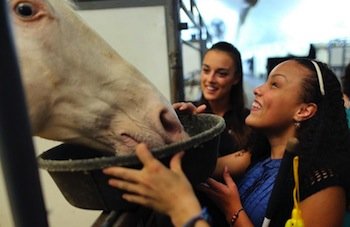 A group of blind and visually impaired youth will get the opportunity Wednesday to experience a hands-on sensory tour of Cavalia's "Odysseo."
Cavalia worked with Columbia Lighthouse for the Blind in D.C. to make this experience happen for the children. The special interactive tour allows them to experience "Odysseo" through a variety of senses.
Member of the cast will guide the children as they touch the horse's soft coats and brush and groom them. They will also feel the tackle, reins, harnesses try the saddles and listen to the horses' heartbeat and breathing with stethoscopes.
At the end of the tour, riders will bring their horses to a full 30 mph, allowing the children to feel the ground quake beneath the incredible power of the equine stars.
Matinee and evening performances of "Odysseo" are scheduled until Nov. 10 at the Plateau in National Harbor.