Food Stamp Reductions Set for Nov. 1
Dorothy Rowley | 10/29/2013, 1:42 p.m. | Updated on 10/29/2013, 3:44 p.m.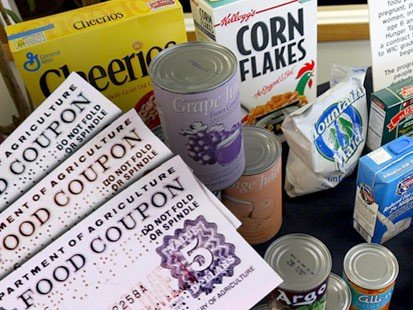 Families and individuals across the nation who receive food stamps can expect an automatic reduction in their monthly benefits, effective Nov. 1.
The cuts come at the onset of the holiday season — meaning a lot less food for many people — and are the result of the American Recovery and Reinvestment Act that was mandated in 2009 by the Democratic Party.
As part of the stimulus package, the act temporarily increased benefits for all recipients of the Supplemental Nutrition Assistance Program (SNAP), the official name for the food stamp program.
Critics of the cuts, including the District-based Bread for the World organization and D.C. Council member Mary Cheh, say the reductions "pick on the poorest of the poor."
"I can't believe this would be one of the programs they've targeted," said Cheh, who lived off $30 worth of food for one week last October as part of the national SNAP Challenge. "I think what they're doing to food stamp recipients is cold, taking the most needed necessity from people's mouths."
Cheh said she participated in the experiment to see what it was like.
"People aren't living high off the hog with food stamps," she said. "I used part of the $30 to buy three cans of tuna and they were inedible. It was hard to eat nutritionally on that amount of money and I wanted to highlight that."
The food stamp program, which currently costs about $80 billion a year to operate, provides benefits to about 48 million people — 87 percent of whom live in households with children, seniors or people with disabilities. Average benefits for households are $275 each month, according to the U.S. Department of Agriculture, which funds SNAP.
The food stamp program in the District serves 144,000 clients, and nationally, the cuts will total about $11 billion through 2016, according to a report from the District-based Center on Budget and Policy Priorities. Cuts in the District's program will equate to $15 million from November through September 2014.
Although officials are not sure of the exact amount of reductions that will be noted by individual households, the decreases will be calculated based on income, household size and expenses.
For example, while a family of two people would see a reduction of $20 in their food stamp benefits, a household of four would see $36 in reduced benefits. A household of three would see a $29 reduction, and a person who receives the minimum $16 in benefits would see a one-dollar reduction to $15.
No further information will be mailed to food stamp recipients, but they can call the phone number on the back of their EBT cards to check their balance. They can also contact the D.C. Department of Human Services at 202/727-5355.
All D.C. public schools and public charter schools offer free breakfast and lunch for students whose families participate in the food stamp program.