AIDS Walk Honors Sean Sasser
10/30/2013, 3 p.m.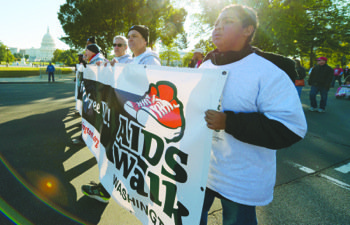 This year's annual AIDS Walk Washington, held Saturday, Oct. 26, presented its annual Courage Award to the late Sean Sasser, well-known HIV activist, at the Walk at Freedom Plaza. Thousands came out to walk for the cause and celebrate Sasser's life. Having lived for 25 years with HIV, Sasser died in August at the age of 44 after a short but difficult battle with Mesothelioma. Sean discovered he was HIV-positive when he sought to enlist in the Navy at age 19. When the Navy denied him because of his HIV-status, Sean went on to become an AIDS educator and activist. As a young black gay man living with HIV, Sean sought to educate others and organize support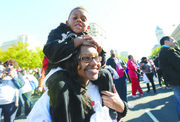 AIDS Walk Washington is a fundraising walk and 5K timed run benefiting and produced by Whitman-Walker Health, a non-profit community-based health organization which provides dependable, high-quality, comprehensive and accessible health care to those infected with or affected by HIV/AIDS.
All proceeds from AIDS Walk benefit HIV services at Whitman-Walker Health and more than a dozen Community Partner organizations. For more information on AIDS Walk or to register, call 202-332-WALK or visit www.aidswalkwashington.org.