Soul Stirring: The Black Church as a Vanguard for 'Brown'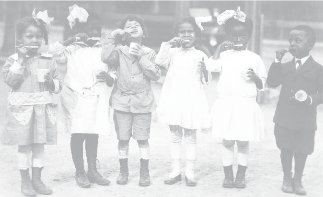 Following Emancipation, the vast majority of African Americans sought to increase their intellectual and social mobility by enrolling in church-sponsored common schools. Though a few historically Black colleges and universities (HBCUs) had already been founded, rudimentary instruction – reading, writing, and basic math – were coupled with the mental and emotional support needed to transition from chattel slavery to independent living through churches. Common schools, offering up to two years of instruction, became the foundation of social, civic, and community life, extending the role of the Black church far beyond that of centers of worship. And despite the insistence that church and state remain separate, African-American churches continued to play a pivotal role in the educational support and character development of the Black community through the 1950s.
"The education of the Negroes in the United States involves much more than the instruction of a people fifty years removed from slavery. It involves the adjustment of that group to the economic, civic, and spiritual possibilities of democracy. Never was greater opportunity for service offered to any nation than that presented by the need of the American Negro for an education that will fit him to undertake the responsibilities of life in the twentieth century," wrote U.S. Department of the Interior Commissioner P.P. Claxton in a 1916 report on African American education.
Historian Saul Dorsey said that despite efforts to offer instruction to formerly enslaved people, the educational opportunities provided by mainstream America were designed to enforce a white supremacist system that would ultimately solidify Blacks as second-class citizens.

"Education became the key to economic, and subsequently, social stability. If, as a race, you are constantly being told that you are incapable of learning, but that very instruction is what separates the man behind a desk from the man plowing a field behind a mule, or it is the difference between being able to feed and clothe yourself and your family versus walking about living off of the kindness of people who hate you, you find a way of learning," Dorsey said. "The Black church was a space of nurturing and dignity that accepted every generation from the eldest to the youngest, side by side, and helped them all reclaim their humanity."
Besides individual churches, all of the primary Black denominational bodies among the Baptists, Methodists, and Pentecostals established common schools (for teaching basic instruction), normal school (to groom young people to become teachers), and their own colleges and seminaries. The Black church often established schools whether or not they also had white philanthropy, but it must be noted that these church-operated schools slipped into a primal or folk status as county governments or larger white benevolent societies and philanthropists, including the Rosenwald Fund took over school funding.
Additionally, the American Missionary Association (AMA), an inter-racial body, founded by political abolitionists and church members of liberal communions, established more than 500 schools and colleges for the freedmen of the South during and after the Civil War, spending more money for that purpose than even the federal Freedman's Bureau. Among the 11 colleges AMA founded were Atlanta University, (1865); Fisk University, (1866); Hampton Institute (1868) and Tougaloo College, (1869); and Dillard University. Together with the Freedmen's Bureau, the AMA also founded Howard University in Washington, D.C. in 1867.