Christmas Comes Early in the Region
Gospel Greats, Others Prepare for Annual Evangel Cathedral Celebration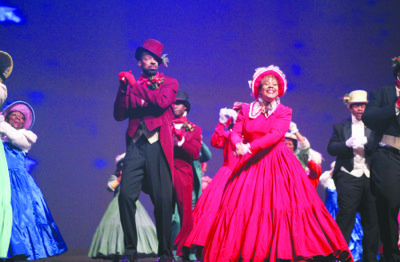 It's never too early to think about Christmas.
And, it's certainly never too soon to get into the spirit of the most recognized holiday in the world, said Kevin Matthews, an elder at the more than 4,000-member Evangel Cathedral in Upper Marlboro, Md.
For more than 20 years, Matthews and others at the church, have wowed audiences with one of the most lavish holiday events in the nation, the annual Evangel Christmas Celebration, featuring gospel superstars Bebe Winans, Tamela Mann, Fred Hammond, Marvin Sapp, Kelly Price and Israel Houghton.
"We are able to get such big name artists because they feel like we do, that this is part of the ministry," said Matthews, 44.
The two-hour-and-30 minute production, features 10 Christmas scenes – depictions from the Victorian era, modern-day, and biblical times.
It's a story about a family celebrating Christmas and, with a six-figure budget, the show rivals any elaborate Broadway production currently running on the Great White Way, referring to the many fluorescent lights that illuminate the corridor of Manhattan's most famous street.
"I get excited about the entire show, not just my part," said Mann, 47, who plans to debut music from her new album, "Best Days Deluxe," during the celebration.
"It's all about the ministry and it's all about the message. It's one of those things that, even as I've been asked to perform in the show, I just can't wait to sit and watch the whole thing," she said.
The show includes a cast of more than 200 live animals, pyrotechnics, and both professionally-trained and amateur actors who will recount the story of Jesus Christ in the church's Evangel Multi-Media & Arts Center.
Included among the live animals are camels, which are also used in many Hollywood movies, Matthews said.
"The only thing that separates the quality of this musical and Broadway is the zip code," he said.
While past productions included the legendary brother and sister gospel team of BeBe and CeCe Winans, this year's show will feature BeBe Winans with his brothers, Marvin and Carvin.
"I'm used to doing this with my sister, but I told my brothers what to expect, that this is a major production and a great way to share in the ministry," Winans said. "We love coming to the Washington, D.C., area as a family, we've always been treated so wonderfully, the people are so special," said Winans, 51.
The brothers also plan to perform new tunes from their upcoming CD, "Sitting in a Foreign Land," which Winans said evokes the many experiences the family has both enjoyed and languished over for many years.
"Nine years ago, we lost a brother, Ronald, and last year we lost our dear friend Whitney Houston," Winans said. "Life has begun anew in a lot of ways. Mostly, because of the losses, it's a life that is altered, but it doesn't mean that you can't live a happy altered life and that's where we are. We miss Whitney because she was such a sweet soul who meant a lot to us and we sorely miss Ronald, whom we lost far too soon," he said.