Christmas Comes Early in the Region
Gospel Greats, Others Prepare for Annual Evangel Cathedral Celebration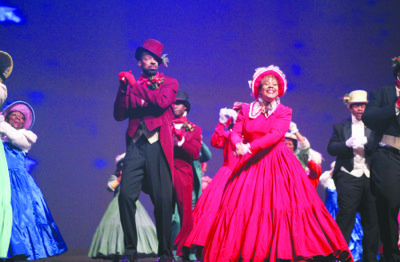 The annual celebration has become a must-see for area residents, who have packed the cathedral to witness the story of the struggle between good and evil.
Audiences have displayed through their tears and other expressions, how powerful the message in the story remains, Matthews said. "There's so much and people can see a really good visual of what Jesus Christ did for everyone," he said.
The show opens with more than 200 individuals dressed in 18th century garb, dancing and singing in the snow in a small town.
Actors are dressed as toy soldiers, clowns and ballerinas. Eventually, a gospel hip-hop dance sequence ensues, featuring an energetic choreographed routine.
In a nod to the contributions made by black music artists, songs by Diana Ross, Aretha Franklin, Tina Turner, the Jackson Five, and Luther Vandross are performed before headliners take to the stage
"God came to give us life and that's what you see in this production," said Hammond, 52, a veteran songwriter, bassist and vocalist who's known throughout the music industry as a gifted musical arranger and producer. "You have the children singing, the adults singing, the play, the whole thing and, in the end, you get a great ministry," he said.
Show times are Saturday, Dec. 7, at 12 p.m., 4 p.m., and 7:30 p.m.; Sunday, Dec. 8, at 5 p.m.; Saturday, Dec. 14, at 12 p.m., 4 p.m., and 7:30 p.m.; Sunday, Dec. 15, at 5 p.m.; Saturday, Dec. 21, at 12 p.m., 4 p.m., and 7:30 p.m.; Sunday, Dec. 22, at 5 p.m.
Exclusive seating, which includes a seat in the first 10 rows, a souvenir ticket, a Christmas Celebration DVD, and special reserved parking is $85.
VIP seating is $75 for individuals, $70 for groups of 25 or more, and $65 for children ages 4-12. General seating is $65 for individuals, $60 for groups of 25 or more, and $55 for children ages 4-12.
To purchase tickets or for further information, call 301-249-9400, or visit, www.evangelchristmascelebration.com.