Churches Urged to 'Adopt-a-School'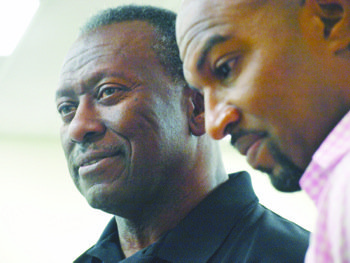 The church has long been a base of empowerment, exhibiting an unparalleled degree of influence over the thoughts and lives of its congregants. It comes as no surprise that the Black church, as perhaps the most important institution in the African-American community, has reinvigorated a centuries-old custom for meeting the educational needs of Black students. With increases in single-parent and financially- stressed households, a growing number of young people have joined the ranks of the disenfranchised, finding school goals unattainable and personal crises more pressing than academics.
"For a lot of these kids, there is no hope," said Dr. Tony Evans, who jump-started the "Adopt-a-School" program 28 years ago in Dallas, Texas. "So many single parents are struggling, and through our outreach, faith-based ministries they know [their children] are going to be cared for and developed to be the leaders of tomorrow."
According to a report by Evans' organization, youth are five times more likely to graduate if they have a meaningful relationship with an adult. Forty-six percent are less likely than their peers to start using illegal drugs; 27 percent are less likely to start drinking, and 52 percent are less likely than their peers to skip school.
Evans' program began at Oak Cliff Bible Fellowship in Dallas, where he has pastored for nearly 40 years, after the principal at David Carter High School voiced concern about gang activity. Evans responded by recruiting adult mentors to regularly patrol the school's halls. That response led to a school assembly where he impressed upon his young male charges the importance of making right choices.
The program gradually grew to embrace female students, and with the fellowship having adopted more than 40 public schools in the city by 2006, Evans decided to launch the initiative as a nationwide effort.
Since then, Evans' mission has been to get 300 churches each year to adopt schools.
District-area attorney Matthew Frumin, a staunch advocate for public education, said churches as often as possible should link their ministries with programs that mentor youth in their communities.
"It's the one thing that people in faith-based communities might be well-positioned to do," said Frumin. "One of the things that we see in Ward 4, and which is working out quite well, is tutoring. So if a neighborhood church wanted to be supportive of families by helping children learn how to read and do math, that can be really important in building [an ongoing] relationship with the community."
First Baptist Church of Glen Arden in Maryland, in conjunction with Evans' "Urban Alternative" project hosted a conference this past summer to promote the initiative locally.
The conference also attracted church leaders from Delaware, Pennsylvania, Michigan, and Virginia to develop relationships with their neighborhood schools.
Diane Dawson, a retired school teacher from New York, attended the instruction session, saying she was interested in learning how to lend a level of spiritual compassion to the education process.
"I learned to have confidence in my own mental ability with adults in my Sunday school class saying, 'Diane, you can do it; I know you can do that.' I received hugs and encouragement, not to mention free secondhand clothes at the church bazaars. I could not have been an effective student in school if I did not have a caring church family that extended itself into my school life. The Adopt-a-School Initiative is restoring that balance," Dawson, 68, said.