Churches Urged to 'Adopt-a-School'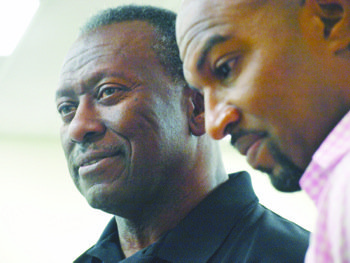 Bill Collins, Urban Alternative vice president and the Rev. Charles Wolford, served as instructors for the daylong conference. Collins, a graduate of the University of Colorado, said the church plays a vital role in education by providing social services at schools to students in need. Quoting Psalm 128, Collins insisted that the family is transformed and becomes healthier, through such compassionate service.
"The need is even more acute in 2013 than it was when we were here in 2007; the need is greater. If our families are in trouble, then our schools begin to look like our families. Just the number of young people who are living with homelessness as a reality is astonishing," said Collins. "We want churches to reach out to those young people who have no fixed address, or are sleeping on someone's sofa in a different person's home week after week and as a result are struggling."
Aimee Monticchio, principal at Langston Hughes Middle School in Reston, Va., also attended the Aug. 1 conference.
"I went wearing two hats – one, to look at the program for my church, and secondly, to look at the program through the lens of my school," Monticchio said. "The program really is delivering the resources to help not only with the academic achievement, but also to [call attention to] the social and emotional needs of students and their families, that can impact learning."
Collins said that like the old television western Gunsmoke, a lot of people are looking for the Calvary to show up and the church is the Calvary. Wolford concurred, saying that it is time the needs of those in crisis are met not by the government, but by the church.
"The simplest thing is to address the immediate human need before the spiritual. The spiritual context is hard to address when a person is hungry. It is that human aspect – the need for food, clothing, and shelter – that once answered makes the conversation about learning and education easier. This was the role of the church from the beginning. That is what the Kingdom Agenda is all about – bringing God back into every aspect of life."