DCTV Pays Tribute to Community Leaders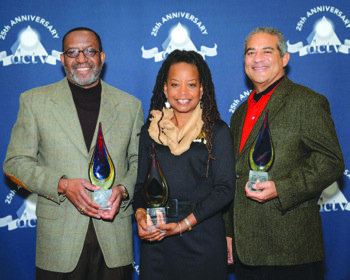 The weather wasn't particularly hospitable – overcast, windy and chilly with occasional splashes of sunlight – but that didn't deter several dozen friends and supporters of DCTV from spending the afternoon at what was essentially the kickoff of DCTV's 25th anniversary.
Guests spent the afternoon and evening Saturday on the grounds of the Brooks Mansion enjoying the Caribbean flavor of Steel Pan Jam and the sensual, smooth music of Grammy Award nominee Carolyn Malachi and sultry jazz singer Sunny Sumter. Guests included DCTV's community and programming partners, members of the city council, local developers and residents who honored an illustrious array of community leaders named the 2013 DC Illuminators.
The honorees, DCTV Chairman Koji Nmandi said, are individuals, who through exemplary careers, volunteerism and public service, worked to improve and enhance the overall well-being of the community.
"They have lived stellar public and personal lives – we call them Illuminators who've dedicated their lives and careers giving back to the community," said Nnamdi, creator and host of The Kojo Nmandi Show and host of The Politics Hour on WAMU, 88.5 FM.
The 2013 DC Illuminators are: Maudine Cooper, president and CEO of the Greater Washington Urban League for the past 20 years; William Lightfoot, local attorney, former D.C. Council member and one of DCTV's founders; Washington Informer Publisher Denise Rolark Barnes; Nnamdi; Angela Franco, president and CEO of the Greater Washington Hispanic Chamber of Commerce; Barbara Lang, president and CEO of the DC Chamber of Commerce; and Marie Johns, former deputy administrator of the U.S. Small Business Administration.
"I've been here since we started up. Many, many things have changed," said DCTV CEO Nantz Rickard. "We started with a desk, a chair, a computer without a hard drive and a phone. Now, we have HD equipment, virtual sets, editing and training suites and spaces. We used to have a couple of hours programming on one channel and today, we have 8,000 hours of programming a year produced by local residents."
In the 25 years since the station started, Rickard added, she and others in the industry have witnessed major changes in technology and the way people interface with that technology.
"The whole concept has changed in people's minds. It allows people to have a voice on channels and have an impact with the major content they produce. DCTV and what it does is very important," said Rickard, who has been CEO since 1994. "Our whole mission is about community and doing an effective job of creating a message through a broad-based community forum. There's nothing like it anywhere around here – that's what we'll be celebrating with the community."
Franco, a Bogota, Colombia native born in Los Angeles, said she was grateful to receive the award, spoke briefly about the Hispanic Chamber's work and credited the influence of her parents and family.
"I like to include them," she said. "This shows that people are watching you and what you do … I'm honored. Thank you for thinking of me."
Johns arrived shortly after her name was called to be presented with the award.