DCTV Pays Tribute to Community Leaders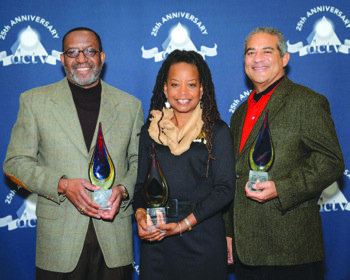 "Perfect timing," said Lightfoot, sparking laughter from the crowd.
"I'm going to the DC Chamber's annual dinner … Sorry I'm late; I resolved to be here today," said Johns, a former Verizon executive and D.C. mayoral candidate. "It's really fitting that we're honoring DCTV. They have been working closely with the chamber [and] are a phenomenal resource bringing great information to the community."
Fellow board member Pedro Alfonso said Nmandi had provided DCTV with 15 years of visionary leadership and described him as fearless, having a "cool look", a silk tongue, and possessing the best voice in D.C. He called Nmandi and Rickard "wonderful leaders who have led us through the hard times and is a team to be reckoned with."
Nnamdi, active in the broadcast field for 40 years, thanked the board and the station.
"It is my humble hope that I've served the community. I hope to be a force, make a difference," he said.
Barnes told the audience of the parallel tracks DCTV and the Washington Informer have followed.
"It's important to tell our own stories," she said. "This is my hometown and I love this city. We have to tell our stories, document our history and cement our legacies, write and produce great stories for the community. We think of retiring but there's still work to be done."
"Without a great staff, without their hard work, I wouldn't be here."
Malachi echoed Barnes' comments.
"It's great to grow up in D.C.," she said in between sets. "They call it a melting pot but I prefer to call it a salad bowl. There are so many different types of music and musical influences here. I'd pass by this building all the time. I'm glad to be here and congratulations to DCTV's 25 years."