Hyundai Equus Brings Premium Luxury to the Value-Conscious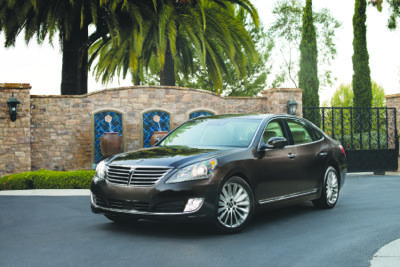 By offering well-designed, inexpensive and fuel-efficient vehicles that consumers want to buy, Hyundai has become one of the fastest-growing automotive brands in the United States. Hyundai buyers do not buy Elantras, Sonatas and Santa Fes for prestige; they buy them for value.
Undercutting the competition with the proposition that buyers prefer value over pedigree, the Korea-based carmaker is hoping that buyers will look past the label while considering this week's test vehicle, the 2014 Equus sedan. With Equus, Hyundai has cloned a high-end luxury car that could gain significant market share in the niche occupied by notables such as the BMW 7 Series, Audi A8, Lexus LS, Porsche Panamera and Jaguar XJ if all goes as planned.
With pricing which starts at $61,000 and fully-equipped at $68,920, the Equus undercuts its main competitors by at least $15k. Despite the lower price, the Hyundai has more power, more room and costs much less while offering more features than the highly regarded Lexus LS 460 that we tested earlier this summer.
Hyundai is also adding stellar service for free. Equus comes with three years or 36,000 miles of free maintenance, and the owners never have to set foot in a dealership. For scheduled maintenance or a repair, a valet will whisk your car from your home or office, replacing it with a complimentary loaner until your Equus is ready.
True to its name, the Equus is a war horse that is impressively loaded and nice to spend time with. The exterior is upscale – a mélange of styling elements, with a bit of older Mercedes S-Class flavor here, a dash of Lexus LS there and a touch of Buick thrown in for good measure. The car has a pleasant curb appeal though it does not boldly distinguish itself the way an Audi or Jaguar does.
One will be surprised to find out that the Hyundai name appears nowhere on the Equus. That obfuscation works to some degree. During my eight days of driving the car, whether in the District, or in Virginia, Maryland or Delaware, onlookers were often surprised to find the car was indeed a Hyundai.
Beyond the Equus' exterior styling, however, lies the real reason to consider an Equus: an interior with workmanship worthy of competing against the best Japanese and German luxury sedans. I found the generous rear space, the supple, ventilated leather seats, swathes of wood across the dashboard, a plethora of gadgets and safety equipment, and soft-touch materials throughout the cabin to be at par with any of the competitors.
On the road, the car's adjustable air suspension provided a suitably smooth ride, though the Hyundai's handling is a bit lame compared to the BMW or the Audi. The 5.0-liter, 429-hp. V8 shuttled the mighty car forward with ease, but you do pay with poor gas mileage – 15 mpg city, 23 highway, 18 combined. Also bits and pieces of the road's surface manage to filter through the chassis; over bigger bumps you get the feeling that a lot of mass is moving around under the vehicle.
With all my admiration for this car, a nagging question: will buyers line up to drop luxury car money on a sedan with no pedigree? The average doctor, lawyer or business executive who buys the Mercedes or BMW may be more prone to peer pressure than we realize. How does the rational decision to buy a lesser pedigree Hyundai answer the very impractical question that drives vanity among this class, namely: What can I drive that will impress people and make me feel good about myself? My suspicion is that vanity will trump value and rational buying.