Kale and White Bean Soup
10/30/2013, 3 p.m.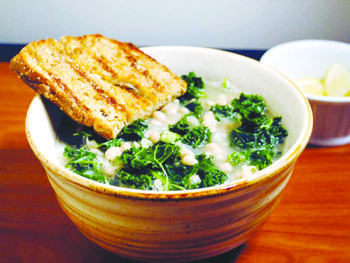 Serves 8
Hands-On Time: 25m
Total Time: 30m
Kale can provide some special cholesterol-lowering benefits. Kale's risk-lowering benefits for cancer have recently been extended to bladder, breast, colon, ovarian, and prostate. Recognized as providing comprehensive support for the body's detoxification system, Kale is the perfect additive to soups, salads, or even juicing regiments as the fall gives birth to colder winter months. This recipe for Kale and White Bean Soup is quick, easy, and extra healthy. Enjoy!
Ingredients
2 tablespoons olive oil
4 cloves garlic, chopped
2 stalks celery, sliced
1 large onion, chopped
kosher salt and black pepper
2 15.5-ounce cans cannellini beans, rinsed
1 cup small soup pasta, such as tubettini, ditalini, or orzo (4 ounces)
1 bunch kale, thick stems discarded and leaves torn into 2-inch pieces (8 cups)
2 tablespoons chopped fresh rosemary
1/2 cup shaved Parmesan (2 ounces), plus 1 piece rind (optional)
1 tablespoon fresh lemon juice
1 loaf country bread, warmed
Directions
Heat the oil in a large pot over medium-high heat.
Add the garlic, celery, onion, 1 ½ teaspoons salt, and ½ teaspoon pepper and cook, stirring occasionally, until tender, 4 to 6 minutes.
Add the beans, pasta, kale, rosemary, 8 cups water, and Parmesan rind (if using). Cover and bring to a boil.
Reduce heat and simmer until the pasta and kale are tender, 4 to 5 minutes.
Remove the Parmesan rind. Stir in the lemon juice and sprinkle with the shaved Parmesan before serving. Serve with the bread.