Local Barbershop Unites Community, Region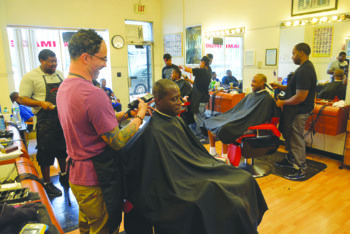 Bobby Lucas relished the chance to play baseball and study business administration at The George Washington University alongside tens of thousands of students from across the country and around the world when he first moved to the District in 2006.
Weeks into his freshman year, he recognized that his once crisp shape-up dulled with each passing day and that he had few options for haircuts on the Foggy Bottom campus in downtown D.C. Lucas decided to take a 40-minute ride to A Sharper Image, a barbershop located on Georgia Avenue in Northwest.
Years after he graduated from his beloved alma mater, Lucas still visits his old stomping ground in Ward 4 – a barbershop that served as a home away from home.
"In college and in professional environments, I was often around people who altered the way I saw the world," said Lucas, 26, a former pitcher for a Washington Nationals affiliate. "Going to this barbershop gave me a foundation [similar to what] I had at home. It was like being around family again," said Lucas, a baseball instructor, who lives in Baltimore.
Every week, hundreds of men and boys visit A Sharper Image for a haircut and an opportunity to fellowship. Some sift through magazines while waiting their turn for a haircut, a shape-up or a close shave. Others engage in heated debates as they watch sports highlights on a large, flat screen television. Hip-hop, R&B, and go-go music resonate throughout the space. Its walls serve as a bulletin board for community shows, events, and various neighborhood-based services.
Michael Brown, head barber and owner of A Sharper Image, said the barbershop has gained a reputation as a gathering place for men from all parts of the Washington metropolitan region and even attracts those who simply want to shoot the breeze.
"We discuss [everything from] religion, politics, sports, [to] relationships," said Brown, 44. "There's never a dull moment in this barbershop. You come across people from all walks of life: some who wear a shirt and tie to work, some rich, some poor, and some who stand on the corner and hustle all day," said Brown who lives in Northwest.
Brown, a barber since 1993, along with two other colleagues in the barbering industry, set out to establish their own business in 2000 after numerous disputes with management at another local barbershop. He purchased a storefront along the blighted Georgia Avenue corridor and navigated a lengthy certification process that involved untold visits to the D.C. Department of Consumer and Regulatory Affairs.
"We were in a situation we did not like and we wanted to make things better for ourselves," said Raun "Ron" Giles, 51, a barber at A Shaper Image and Brown's longtime friend." [Michael] provided the financial means to make the move that we wanted to make," said Giles who also lives in Northwest.
When A Sharper Image opened in July of 2001, one of its first patrons was Brown's longtime friend and local television news reporter, NBC4's Shomari Stone who said the barbershop has provided him a fresh, unfiltered perspective on local matters.