Local Barbershop Unites Community, Region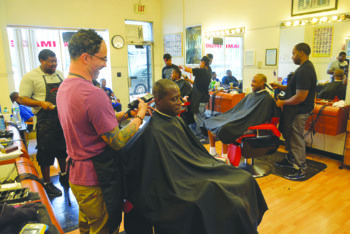 "A Sharper Image is a one-stop shop to figure out the concerns of the community," said Stone, 36. "People always talk about the local issues in this venue. It is the heartthrob of the community," said Stone who lives in Silver Spring, Md.
The current six-man team of barbers who jelled in 2007 after a series of staff changes has established a steady clientele. They offer an open ear and pearls of wisdom with each haircut. Giles likened the team to a game of pick-up, calling each barber a master of his craft.
"This is the best group of people I've been around," said Giles. "Our bond has outlasted some of our marriages so you know it's serious. We're a team. We want to provide the best service for people."
Notable patrons include Indianapolis Colts cornerback Vonte Davis, retired professional basketball player Juwan Howard, hip-hop artist J. Cole, actress BernNadette Stanis who is best known for her role as Thelma Evans in the CBS sitcom, Good Times, and Dawn Robinson of the 1990s R&B group En Vogue.
Brown attributes A Sharper Image's loyal following to what he describes as his barbers' keen eye for detail that few possess. He said that he wants to ensure that clients receive quality service with every visit.
"When someone is paying you for a service, they expect for it to be done professionally," said Brown. "Anyone can get their hair cut in a kitchen but when they go to a barbershop, they want it done perfectly. That's the most crucial aspect of maintaining any business."