Magazine Spotlights Multifaceted Black LGBTQ Community
Margaret Summers | 10/30/2013, 3 p.m.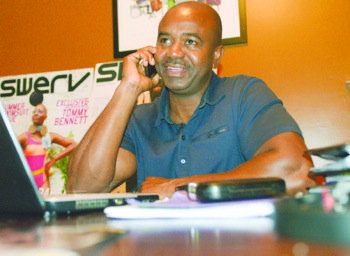 The world of fashion from the 1970s to the present has been highly influenced by black American designers. Names like Willi Smith, Patrick Kelly and Stephen Burrows graced not only the pages of major fashion magazines but their designs took center stage on international catwalks, as well. Their impact and influence rivaled that of Halston, Perry Ellis and Gianni Versace among other top designers of the day. And like their counterparts, Smith and Kelly, who died from AIDS complications, happened to be gay. Burrows continues to receive accolades for his innovative designs.
SWERV, a five-year-old, District-based national lifestyle magazine directed at an African-American LGBTQ (lesbian, gay, bisexual, transgender and questioning) audience, celebrates legendary African-American fashion designers in its fall 2013 edition. Its title comes from the word "swerve" meaning "to turn aside from a straight line."
"Our quarterly publication focuses on African-American LGBTQ men and women in the arts, film, television, politics, sports, health and fitness, and other fields," said Jamil A. Fletcher, 48, of Upper Marlboro, Md., SWERV's founder and publisher. "Its circulation is 30,000 copies to a projected readership of 150,000 (five readers per issue) in more than 70 cities and 27 states. It's distributed free in nightclubs, bookstores, and health clubs, among other places."
In SWERV's fall 2013 issue, Fletcher writes that gay African-Americans have transformed beauty and fashion. "(They range) from makeup artists to the hair stylists who can make a pauper look like a king or queen with just the right cut, to those fashion designers who transform clothes into walking works of art."
The issue includes biographies of gay African-American "Masters of Style" like Andre Leon Talley, former American Vogue magazine editor-at-large and a current board of trustee member of Savannah College of Art and Design. Burrows, 70, is profiled as a "fashion legend" who made his mark in a 1973 Versailles fashion show, known as "The Battle of Versailles." American and French fashion designers faced-off in the famous fashion show, with Burrows' creations receiving unprecedented acclaim. The event also made stars of many African-American female models, seldom showcased on international fashion runways prior to the event.
The fall 2013 SWERV also features Edward Wilkerson, said to be one of Oprah Winfrey's favorite designers. African-American fashion innovators Willi Smith and Patrick Kelly are featured in the magazine's "Fashion Legends" tribute. "They changed the fashion game dramatically for black designers before their young departures from this earth," writes Fletcher. Smith died in 1987 at age 39 and Kelly in 1990 at age 36.
SWERV's "Architects of Beauty" series calls attention to other gay African-Americans in fashion-related fields, like 24-year-old creative designer and wardrobe stylist Jarmal Harris. Originally from the District, Harris won the 2012 Raw Artist D.C. Designer of the Year award, and includes tennis star Venus Williams among his clients.
Ron Simmons, president and CEO of Us Helping Us, People Into Living, Inc., counts among SWERV's many loyal fans. The 25-year-old nonprofit in Northwest works to improve the health and well-being of African-American gay men through innovative programs and services, and supports and assists people living with HIV. The organization also seeks to reduce the impact of HIV/AIDS in the African-American community.