Magazine Spotlights Multifaceted Black LGBTQ Community
Margaret Summers | 10/30/2013, 3 p.m.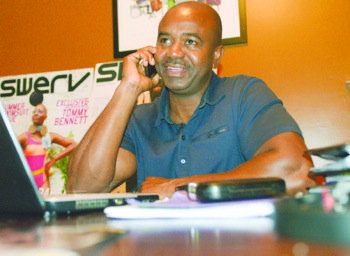 "Every group needs to see itself in the media and on television. That applies to the LGBTQ community," said Simmons, 53. "SWERV does that for us. It comes out of a community that has been ostracized and oppressed. It shows us that our lives are valid. I can't think of another magazine which has SWERV's reach."
"I particularly liked the issue that featured the history of 'ball' or 'house' culture," said Simmons. "It illustrated how marginalized African-American gay young people, with guidance from adults in that community, formed 'houses' or 'families' that developed styles and fashions unique to each 'house,' and competed in fashion contests."
SWERV depends on freelance writers for articles. Advertising comes primarily from pharmaceutical companies specializing in HIV/AIDS medications, due to the high incidence of HIV/AIDS in the LGBTQ community. "These companies support us," said Fletcher. "Nobody else does that. Advertisers still don't see the need to address a same gender-loving community of color."
Next year, Fletcher plans to publish six SWERV issues annually, upload more video coverage on SWERV's website, and create a SWERV YouTube channel.
African-American LGBTQ individuals are proud of their numerous and groundbreaking achievements in fashion and the arts. "But that's not all we are about," said Fletcher.
"With SWERV, I've created a forum to discuss issues important to a particular demographic. The stories of black LGBTQ people get lost in African-American heterosexual and white gay publications. The openness of LGBTQ African-Americans prevents [their lives] from being explored in black mainstream media – although that's changing a bit – and their blackness prevents them from being covered in [the predominantly white] gay media."
"We celebrate those stories and allow LGBTQ African-Americans to tell them authentically. We go into the full depth of who they are."
The fall 2013 SWERV, for instance, notes that key 1963 March on Washington organizer Bayard Rustin, an openly gay African American, was posthumously awarded this year with the Presidential Medal of Freedom, the nation's highest civilian honor. It also features an article on the 40th anniversary of the National Gay and Lesbian Task Force, a District-based civil rights organization.
SWERV may contribute to the African-American heterosexual community's evolving opinions on homosexuality. In a 2009 Pew poll on civil unions and same-sex marriage, 64 percent of African-Americans said homosexuality is "morally wrong." But a 2012 ABC News-Washington Post poll on same-sex marriage showed 59 percent of African-Americans support it. The figure increased from 41 percent, after President Obama publicly expressed personal support for marriage equality.
"I want to demonstrate to African-Americans outside of the LGBTQ community that we too are black," said Fletcher. "We are black, first and foremost. Many try to drive a wedge between us, but we are influential and involved in the black community. We should be able to work together."
Fletcher's advice for others who want to start African-American LGBTQ-oriented publications is, "Stay positive and keep moving forward. Perseverance is needed because [this market] is so misunderstood by those not a part of the community."
For more information about the publication, visit www.swervmagazine.com.