THE RELIGION CORNER: Ending an Abusive Relationship Safely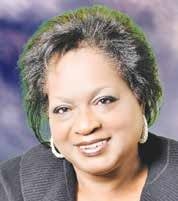 This month, I've shared stories of domestic violence with readers, including my own plight. However, much of the information that's been imparted chronicled the life experiences of Darlene Greene, founder and CEO of the Ina Mae Greene Foundation: For My Sisters, a non-profit organization located outside of Dallas, Texas. Greene graciously agreed to share her story and those of her family members. Her life changed for the better once she left an abusive relationship and established a non-profit in memory of her baby sister who died as a result of domestic violence.
Greene, a guest on my Radio One radio talk last week, provided tips on "How to get out of an abusive relationship safely." Read her recommendations carefully and remember you're not alone. Help is available.
Don't leave any clues you're planning to leave. No matter how small you think it is, it won't take an abuser long to figure out your plans. The person anticipates that you will leave one day.

Develop a code word with someone you trust, a phrase or statement that only the two of you will understand so that person knows when they need to call 911 for you.
Although there are no guarantees and there aren't absolutes when dealing with an abusive partner; these are some proven safeguards. If you're living together, determine where you will go and how you will get there; especially if you don't drive or have access to a car.
Seek a shelter or home of a friend or family member who the abuser isn't familiar with in any way whatsoever. Even if you're not living together and you separate from someone violent, move away from the immediate area.
Throw away your current cell phone and purchase a prepaid phone or get on someone else's account until you are established again, but don't talk to the abuser once you've severed ties. Begin safety precautions immediately. Never agree to meet an abuser at your home, and certainly don't meet the party at their home, in a car or at a restaurant, (the abuser could follow you). Don't let the abuser come to your place of employment or to your mother's house. Do not operate under the assumption that you will be safe in the presence of family members.
That's what happened to Darlene Greene's cousin; they thought she was safe. There were people in the house when she was murdered, there were even men present in the home.

As soon as you've made up your mind to leave, start to save money, you'll be glad you did. Pack a bag with clothing and your important documents; stash them with a trusted friend at work or in a locker. Include orders of protection and divorce papers, along with copies of your ID. Also, make extra copies of your car and house keys, birth certificate, and other vital papers.
Establish a bank account in a financial institution far away from the home you once shared with the abuser. Keep bank cards, check books and receipts in your safety kit and have the statements forwarded to a post office box. Make sure to use a post office box away from your previous community. Consider a location close to job or where you worship.
You've got to outsmart the abuser in order to save your life! For more information about safety planning or to obtain a copy of a safety plan, visit www.inamaegreene.org.
Repeat these scriptures, Colossians 3:19 which says, "Husbands, love your wives, and do not be harsh with them." Also read, 1st Peter 3:7 which says, "Likewise, husbands, live with your wives in an understanding way, showing honor to the woman as the weaker vessel, since they are heirs with you of the grace of life, so that your prayers may not be hindered."
Lyndia Grant is a columnist, radio talk show host and keynote speaker. Visit her website at www.lyndiagrant.com; click the products page, and order a copy of her motivational book or audio tape. Send emails to lyndiagrant@gmail.com or call 202-518-3192.