Savoy Students Continue to 'Thrill'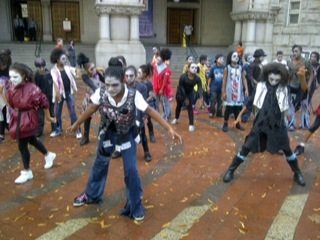 For the second time in as many years, a group of students at Savoy Elementary School in Southeast have gone beyond the confines of their school walls to share the "thrill" of learning.
But on Wednesday, in addition to appearing as zombies like they did last year outside the National Portrait Gallery while keeping in step to Michael Jackson's epic "Thriller," the students' flash mob in front of the old Post Office Pavilion that also featured a few ghosts, set the pace for other elementary students across the country to render similar performances just in time for Halloween.
"Savoy is becoming a beacon of academic and artistic excellence," said principal Patrick Pope, who used a $500,000 grant to develop the award-winning school's art program. "We were an underachieving school that is now achieving great things."
In addition to keeping pace with their core studies, for the past few years Savoy's students have been able to explore and understand assignments centered on dance, music, theater and film.
But prior to 2012, Savoy had been among the city's lowest-performing schools.
That changed however, when Pope assumed the helm, eventually resulting in the school's selection last year as one of eight across the country recognized by the President's Committee on the Arts and Humanities (PCAH) and which are a beneficiary of the intensive two-year Turnaround Arts initiative, developed in cooperation with the U.S. Department of Education and the White House Domestic Policy Council.
"The numbers don't lie — the children are doing better," said Pope. "We continue to increase arts opportunities beyond the normal school day, provide our teachers with rich and functional professional development and further implement an arts education program considered parallel with the standard core content studies of reading/language arts and mathematics."
Meanwhile, one of Savoy's most committed mentors is actress Kerry Washington, a PCAH member who has adopted the school.
"I know firsthand the power of the arts to transform the lives of individual students, and to create an engaging place to learn for everyone," said Washington. "I feel privileged to be part of that process at Savoy."
Pope added that both his students and teachers have continued excel.
"The numbers don't lie — we continue to increase arts opportunities beyond the normal school day, provide our teachers with rich and functional professional development and further implement an arts education program considered parallel with the standard core content studies of reading/language arts and mathematics."