Shuttered Prince George's Boys and Girls Club Reopens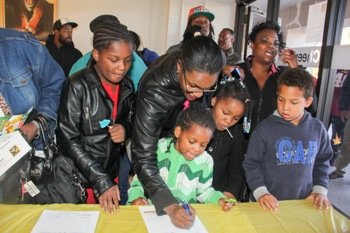 Nearly three years after closing its doors for renovations, the Landover/Palmer Park Boys and Girls Club reopened to the community during its fall festival.
The facility reopened Saturday, Oct. 26 in a renovated space along Barlowe Road in Palmer Park with an event that featured music, carnival rides, and other activities. Club officials said they spent three years securing funding to refurbish the space; and it now features computer work stations, gaming boards and a large screen television in addition to office space for administrators.
"This is very exciting, I've always had a vision of how I wanted [the club] to be," said Melody Garrett, 56, the chair of the board at the club. "This makes me feel like we're restarting."
The restart did not come without some glitches. Though the club is more than 40-years old, it began to lose some of its luster over the last 15 years. Garrett said the club struggled for years financially and had a hard time finding coaches and other volunteers for club programs.
But officials at the club called on their elected leaders for support. Former state Sen. Nathaniel Exum of Capitol Heights helped secure about $700,000 in grant funding for the facility.
"It's a great feeling," Exum, 73, said. "[Securing funding] was the purpose of creating something for the community."
The funding will also help the club establish more programs for the community, said Ronnie Washington, 77, the club's president. She said she hopes the club will soon be able to offer mentoring and tutoring programs for the community.
"A lot of people felt [the programs] were needed in the community," she said.
Prince George's Council Chair Andrea Harrison, 50, (D-Dist. 5) of Glenarden said she was happy to see an organization dedicated to engaging youth and the community return.
"Our Boys and Girls Clubs are wonderful institutions here in Prince George's County," she said. "They have always served the community. We are looking forward to them to continue to build the organization."
Parents in the community said it had been difficult finding activities for children while the club was closed. The Palmer Park Community Center was able to fill some of the gap left by the club, but it closed its doors this past summer for renovations.
Felacia Smith, 38, of Palmer Park is a single mother of six children. She said she worried about activities for her children to keep them occupied.
"I'm grateful," she said. "I have something for [my children] to do to stay out of trouble."
And staying out of trouble while remaining in school was something the club had always afforded Chris Holman.
Holman, 19, of Palmer Park said he joined the club at 14 because of his passion for sports. A student at the nearby Charles H. Flowers High School, he said the club gave him an outlet.
"It's kept me in school," he said. "I just loved playing sports … I was always focused."
Holman said he now hopes to volunteer at the club and work with young children.
"I thought we would never get the [sports teams] back," he said. [The club] gives [children] an opportunity to do what they want."
Children, too, said they were ready to explore new services at the club.
"I like that you can do cheerleading and other things," said Imani Holmes, 7, of Palmer Park.