Va. Gubernatorial Candidates Debate, Underwhelm
Margaret Summers | 10/30/2013, 3 p.m.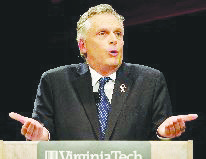 Virginia's candidates for governor, Democrat Terry McAuliffe and Virginia attorney general Ken Cuccinelli, a Republican, held their third and final debate on Oct. 24 at Virginia Tech in Blacksburg, Va.

Libertarian gubernatorial candidate Robert Sarvis was excluded from the debate by Roanoke, Va. television station WDBJ7, the CBS network affiliate co-sponsoring the event with the university. Sarvis was polling at less than 10 percent among likely voters, and therefore did not meet the guidelines agreed upon by the other two campaigns. Two Virginia-based political experts indicated that Sarvis wouldn't have missed much.
"They (the candidates) said the same old stuff they said in the first two debates," said Toni-Michelle C. Travis, associate professor of Government and Politics at George Mason University, in Fairfax, Va.
"It was painful to watch," said Geoffrey Skelley, 26, associate editor of Larry Sabato's Crystal Ball, at the University of Virginia's Center for Politics in Charlottesville, Va. "It wasn't even aired in parts of Virginia. There was nothing said during the debate that the news media could [highlight]."

McAuliffe, 56, a businessman and former Democratic National Committee chair, portrayed himself as the candidate of job creation and fiscal responsibility. "As governor I would double the tax credit for research and development," he said. "I would invest in alternative energy sources to create jobs and diversify the economy." He did not cite specific dollar amounts needed to pay for his proposals. "First, we have to see how much money is available before we can pay [for programs]," he said. McAuliffe said if Virginia accepts Medicaid expansion, which would be paid for by the federal government, the money the state would save could fund Virginia's other needs, such as education and jobs.
Cuccinelli, 45, fired back that McAuliffe lacked a concrete plan for improving Virginia's economy and unemployment situation. "(McAuliffe) uses Medicaid like a magic money tree," said Cuccinelli. "His saying that he wants jobs and a better economy is like saying he likes puppies. I like puppies. But I wouldn't bring one home with me unless I had a plan for dealing with that puppy. [McAuliffe] is all puppy and no plan." Cuccinelli said he supports a $1.4 billion tax cut, a reduction of Virginia's business tax to four percent, and "shrinking" federal government. "Most people are dying for the dignity of full-time work, not Obamacare part-time work," he said.
The candidates attacked each other's positions on gun control. "I support universal background checks," said McAuliffe, who wore a Virginia Tech lapel pin to commemorate victims of the 2007 mass shooting at the university. "This is a simple five to 10 minute check. I've undergone the background check. And I support the Second Amendment, I am a hunter, and I own a gun."
Cuccinelli, who opposes gun control, said as governor he would place more resources in addressing mental health issues. "It's impossible to find the Cho (South Korean Seung-Hui Cho, the Virginia Tech student and gunman who killed 32 people before killing himself) before it happens." Cuccinelli added, "I am an A-rated National Rifle Association candidate."