Va. Gubernatorial Candidates Debate, Underwhelm
Margaret Summers | 10/30/2013, 3 p.m.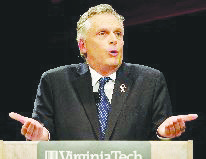 "I don't care what grade I get from the National Rifle Association, I care about public safety," McAuliffe responded.
Both Travis of George Mason University and Skelley of the University of Virginia said there was no clear debate "winner." "The vaguest answers to questions were given by McAuliffe," said Travis. "All his answers were dependent on federal government funding. He needed to provide more specifics. Cuccinelli has plans, but it's questionable whether they are good. He is frightening regarding his views on women and birth control, but during the debate he stayed away from 'hot button' social issues." As a Virginia state senator, Cuccinelli sponsored a bill in 2007 that would give legal rights to embryos, thereby prohibiting any form of contraception.
"Gun control was clearly an issue that separated the candidates," Travis said. "McAuliffe would be a stronger governor in obtaining federal funding for gun control and mental health care."
"People of color will vote overwhelmingly for McAuliffe," said Skelley. "He has strong support from minorities and moderate whites." The online publication for which Skelley is associate editor, Larry Sabato's Crystal Ball, has accurately predicted Virginia and national election outcomes since its inception in 2002.
Travis agreed that more Virginians of color will vote for McAuliffe, especially as Cuccinelli has run on a "keep the federal government out of Virginia" platform. "African-Americans need federal support of one form or another," she said.
Travis and Skelley said Virginia's "Urban Crescent," comprised of Northern Virginia, Hampton, and Richmond, with their large populations of people of color and politically moderate whites, as well as women voters, will determine the election outcome.
Skelley said voter turnout may be low, as many voters are unimpressed by the gubernatorial candidates. Even the state's largest and most conservative newspaper, The Richmond Times-Dispatch, which usually endorses Republicans for office, endorsed "none of the above." "I emailed the newspaper to ask if it had withheld its endorsement before," said Travis. "The answer I got was not since the 1960s."
"My best guess is that fewer than 45 percent of eligible voters will turn out for the election," said Skelley, "especially [since] the gubernatorial race doesn't feel like it's a close one."