COMMENTARY: NCAA Shows Its True Worth with Manziel Suspension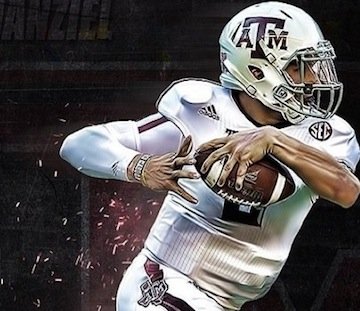 If you missed the first half of Saturday's game between Texas A&M and Rice, well, you missed Johnny Manziel's suspension.
Over the past couple of years, I have boldly and consistently stated that the NCAA no longer has relevance. Now I have proof.
If a recent ruling on whether a former Marine who put his life at risk for his country should be allowed to play college football wasn't enough, the penalty levied against reigning Heisman Trophy winner Johnny Manziel surely is.
This past week, the NCAA handed down a meager half-game suspension for Manziel. As a result, Texas A&M had to compete without their star quarterback for two entire quarters on Saturday against the powerhouse Rice Owls.
As we all know, Manziel allegedly received money for his signature from some clean-cut fellows in the honorable world of sports memorabilia, and the NCAA proceeded to conduct an investigation that was reminiscent of something we've seen in an episode of "Laurel and Hardy." It's time we broke down this façade and put an end to this sham.

We need to abolish the NCAA now. Or, at the very least, remove whatever enforcement authority it supposedly has. Over the past few years, there has been a series of unjust rulings. At this point, the organization has forfeited its right to be taken seriously.
A couple of years ago, the NCAA botched an investigation of the University of Miami athletics program. While the Hurricanes are still awaiting a ruling in their case after former booster Nevin Shapiro went public with his claims of supreme scandal, the NCAA moved expeditiously to give Manziel a slap on the back of his hand. The ruling that was issued last week, strategically timed to coincide with the start of the season, found Manziel was guilty of an "inadvertent" violation — who knows what that is — and would have to miss the first half of the first game of the season.
A suspension this heavy doesn't even give him time to get thrown out of another frat party, sign another jersey or post more debauchery on social media.
What has become painfully obvious is that schools governed by the NCAA need to either establish a regulatory agency that has some real teeth — and can rule with a reasonable degree of fairness — or eliminate the entire farce.
A couple of Sundays ago, the NCAA questioned Manziel for about six hours. All they got from him was one denial after another. It initially appeared that they may have been comfortable with this, until they came down with a suspension that hit him like a bag of feathers.

For the record, Texas A&M did release a statement indicating the NCAA and the university "confirmed there is no evidence Manziel received money in exchange for autographs based on currently available information and statements by Manziel."
But in its everyday slapstick manner, the NCAA found that Manziel apparently did "something" wrong, which, in effect, contradicts its own findings. Otherwise, why was he suspended at all? Further, why was he instructed to discuss his actions with his teammates? And why did Texas A&M agree to give more guidance to its players about signing autographs?
The Manziel suspension is merely the latest in a string of laughable rulings from the kangaroo court. I rule that we eliminate the NCAA. And that's no laughing matter.