Bowie State Professors Guide Students in Astrobiology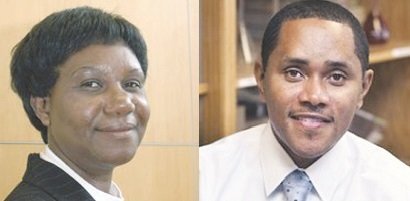 Two Bowie State University (BSU) professors are helping to increase minority participation in the Science, Technology, Engineering and Math (STEM) professions by sharing with their students research they conducted as fellows in a National Aeronautics and Space Administration (NASA) program on astrobiology. In the process, they hope to inspire their students to follow in their footsteps as scientists.
During their research this summer in Northern Virginia, Alan Anderson and Anne Osano, who sought to determine if life – such as bacteria – exists beyond earth, found that their discoveries could have major effects on future advancements in biomedicine.
"We can not only discuss DNA in the classroom, but now we can actually synthesize a DNA double helix in my laboratory at Bowie State University," said Anderson, an organic chemist.
Anderson, along with Osano, a biology professor, counted among five fellows who studied for 10 weeks with some of the nation's most renowned scientists in NASA's Astrobiology Minority Institution Research Support (MIRS) program.
The MIRS program, a corporate venture of the United Negro College Fund (UNCF), provides opportunities for scientists and engineers with doctorate degrees at historically black colleges and universities to partner with organizations like NASA for advanced study in astrobiology – or life in the universe.
This fall, Anderson and Osano, both of whom have shown promise and ability in their respective professions, will be conducting research at BSU that's compatible with what they learned in the MIRS program. To further their research at BSU, the pair received a $10,000 award from the NASA project.
The main goal of the duo focuses on encouraging students to pursue careers in astrobiology, and their work with students in specialized laboratories at BSU will re-create experiments conducted at the MIRS program.
Anderson, who focuses on the development of new methodologies, earned his doctorate degree in organic chemistry at Howard University and pursued postdoctoral studies at Harvard University in synthetic organic chemistry. He worked with a chemist from the Scripps Research Institute in California to synthesize DNA and proteins and uncover answers regarding replication of biological material. Anderson's research could ultimately impact how doctors treat patients with conditions like heart arrhythmia.
Osano, whose research findings will shed light on questions crucial to the study of life on desert planets like Mars, collaborated with a scientist from the SETI Institute in Mountain View, Calif., to investigate cyanobacteria, one of the planet's oldest life forms – and using samples from one of the driest places on earth – the Atacama Desert in Chile – she and Anderson determined that cyanobacteria can perform photosynthesis in extremely dry climates.
"Involving students in the research will create an awareness of the possibilities and opportunities in astrobiology," Osano said. "Since I [was not able] to bring [my BSU] students to NASA, I am bringing back the same project that I've been doing here so I can involve a lot more students."
Meanwhile, Malik Hopkins, project director for the UNCF undertaking, said there's always been a significant absence of minority faculty in astrobiology.
"We're not sure why that is, but we think there's been a lack of general outreach to the minority higher-education community in explaining the study of astrobiology and its benefits," said Hopkins.
"Astrobiology is not just chemistry or biology; it involves all of the physical and life sciences, and I think that in a lot of regards, many higher-education professionals don't necessarily see the relevance to their fields."
He said however, that "[overall], we wanted to put forth the understanding that other areas of study are possible through astrobiology which – no pun intended – are really out of this world."