Civil Rights Legends Encourage Today's Teens
Margaret Summers | 9/4/2013, 3 p.m.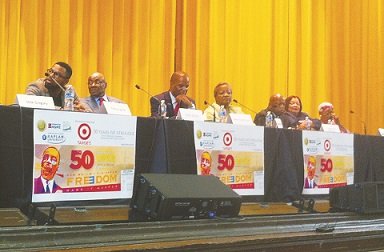 Many civil rights legends, all young people during the 1960s desegregation campaigns, recounted their participation in those campaigns at a recent forum at the Northwest campus of School Without Walls, a District public school.
"50 Years of Struggle: Youth Driving Economic, Education and Social Change," was sponsored by Discovery Education, which broadcast the event live from the school's auditorium, and the Atlanta, Ga.-based King Center, founded in 1968 by Martin Luther King Jr.'s family to advance King's teachings on nonviolent social change. It was one of several events commemorating the 50th anniversary of the 1963 March on Washington.
"We were 14, 15 and 16 years old, just like many of you in this audience, when we integrated Little Rock, Arkansas' Central High School," Ernest Green, 71, told more than 100 students in the forum audience on Aug. 27. Green and eight other African-American teens enrolled in the segregated high school in 1957, confronting daily mobs of angry whites. "We always believed that education was important. It was important enough for the governor of Arkansas to call out the National Guard to keep us out of school. We thought if it was that important, it was something we had to stay with."
Green, who served as the assistant secretary of labor for employment and training under President Carter, joked with the young audience. "I may have gray hair now, but at one time I was 16. I'm one of the few people who can say that Dr. King came to his high school graduation." The struggle for justice is a big job, said Green. "It requires you (young people) to continually figure out what you can do."
Carolyn McKinstry, 65, of Birmingham, Ala., is a survivor of the September 1963 16th Street Baptist Church fire bombing, which killed four African-American girls preparing for Sunday school. "I was 15 years old when Dr. King came to the Birmingham church," she said. McKinstry recalled that The Reverend Fred Shuttlesworth, a local Birmingham activist, wanted King to help him mount an anti-segregation campaign.
"Every aspect of social interaction in Birmingham was segregated," said McKinstry. "We could not go into most public places. Hospitals couldn't even treat black patients. This is what we were up against. When Dr. King spoke at the church, he enlisted the aid and support of young people. Over 5,000 answered his call. They marched, faced police dogs and fire hoses, and went to jail. Because of the power of Birmingham young people, the back of segregation was broken," she said.
Angela Farris Watkins of Atlanta, Ga., 49, an educator and civil rights activist who is a niece of Martin Luther King's, said "I am very concerned about young people, especially today, understanding that there are alternatives to violence. We must embrace the philosophies of Dr. King. We have to be nonviolent in our daily lives."
Doris Crenshaw, 70, of Montgomery, Ala., worked under Rosa Parks, a key figure in the Montgomery Bus Boycott, The Reverend Jesse Jackson, and Martin Luther King's widow Coretta. Concern that today's young people are not involved in social change led Crenshaw to organize the Southern Youth Leadership Development Institute in Montgomery five years ago. "Find something that you're passionate about," Crenshaw told the audience. "Find other people to be passionate about it with you. Be inspired to know that you can do it."
Other panelists included Andrew Young, 81, former U.S. Ambassador to the United Nations, William Leventhal, 66, contributing author of several books on the civil rights movement, and Sinclair Blue, 17, a student at School Without Walls.
"What I learned from being on this panel is that it doesn't matter how old you are or how many years you have been on this earth. If you want things to change, you have to make it happen," Sinclair said.
Students in the audience asked the panelists questions such as what did Martin Luther King's dream mean to them, how could today's teens obtain support from their communities to become activists as did young people during the civil rights movement, which individuals inspired the panelists to become activists, and how did the panelists feel about current attempts to restrict voting rights.
"I was concerned about your generation," said Bernice King, 50, at the conclusion of the event. "But after listening to your questions during the question and answer section of the forum, I think the struggle for justice is in good hands."