D.C. Political Roundup: Andy Shallal Considers a Run for Mayor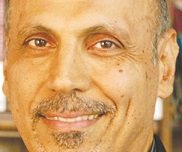 Andy Shallal, one of the District's leading entrepreneurs, said he's strongly considering getting into the political arena by entering the 2014 mayor's race.
Shallal owns the restaurant chain Busboys & Poets. He also owns the restaurant, Eatonville. All of his establishments in the District are located in Northwest. He also opened a Busboys & Poets in Shirlington, Va., and one in Hyattsville, Md. The success that he's enjoyed in business has prompted him to think about a run for the city's top political post.
"When I talk to people in the city, I feel a sense of frustration and hopelessness," he said. "I feel that the politicians in the city have done a disservice to the citizens. I feel that the city is in a tug-of-war of black versus white, longtime residents versus newcomers and we need a referee."
Shallal, who lives in the upscale Kalorama section of Northwest, said that as mayor, he's not going to be a traditional politician and engage in horse-trading with District council members to get what he wants.
"I am not a 'go-along-to-get-along' type," said Shallal, 58. "I feel that members of the city council need leadership. I want to serve the residents of the city and I am not looking to be a career politician."
Shallal said that the key to economic development east of the Anacostia River is to ask what the residents of that area want to have in terms of amenities rather than have city officials dictate what they should have.
"I believe in people and human capital can move mountains," he said. "I think that Martin Luther King Avenue in Southeast can be just as grand and viable as Old Town Alexandria or Barracks Row on Capitol Hill. In order for that to happen, people need to be involved and I will work to see that happen."
Shallal said that he's in the process of forming an exploratory committee and hasn't set a date to announce whether he will run in the upcoming 2014 mayoral election. He said that if he runs, it will be a serious effort.
"I am not getting into this to play, I am in this to win,"Shallal said. "I have already gotten a number of commitments from people who say they will support me and I plan on raising a lot of money. I plan to have a campaign office in Southeast because I want to have a real presence there."
Williams Seeks Ward 8 Democrats Presidency
Natalie Williams, an emerging star in Ward 8 politics, hopes to become the next president of the Ward 8 Democrats.
Williams is a first-term advisory neighborhood commissioner for single-member district 8A07. She's a public relations professional and a former spokesperson for D.C. Council member Marion Barry (D-Ward 8).
"I am running so that I can help to grow the Democratic Party in Ward 8," said Williams, 42. "I have come to appreciate the Democratic Party's commitment to the people. The party needs to be promoted from the national level on down [to the grassroots level]."