D.C. Political Roundup: Andy Shallal Considers a Run for Mayor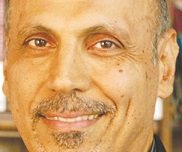 Williams ran for the presidency of the Ward 8 Democrats in September 2011, but lost to The Rev. Joyce Scott, despite endorsements from D.C. Council member Marion Barry (D-Ward 8) and activist Jacque Patterson, the late William Lockridge and The Rev. Anthony Motley.
Williams works at the United Medical Center in Southeast as the corporate secretary to the board of directors and also serves as the hospital's spokesperson.
The Ward 8 Democrats will hold their officer elections on Saturday, Sept. 21 at its Biennial Convention at Imagine Public Charter School in Southeast. At present, she is running against Derrick Colbert, an advisory neighborhood commissioner for single-member district 8C04, for the presidency.
Williams managed to recruit political activist Ronald Williams, who intended to run for the presidency, but Williams persuaded him to join her ticket.
"He has joined forces with me," Williams said with a smile. "Ronald will run with me as the first vice president."
Williams said that if elected president, she will work to get more Ward 8 Democrats involved in the organization.
"Every Democrat in Ward 8 is a member of the Ward 8 Democrats and I will work to see that more people get involved in the organization," she said.