Local Art Exhibit Spotlights Racism, Injustice
Artists Embrace Social Activism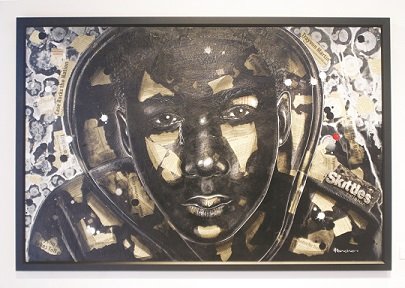 "Well, I thought what I had painted would fit the subject," said Knox, who is the first African-American artist commissioned to paint an official White House portrait. "I like the idea and it's something that was appropriate and timely."
Brown said he was at a cookout on the night he heard the Zimmerman verdict.
"Everybody was texting, everybody was upset," said Brown, who lives in Northwest. "I was disgusted but couldn't express how I felt. The thing is that we weren't the only ones who were screaming. Half of our artists are white. It's a mix which is as it should be. The media isolates us but the feeling is shared."
Ohio artist Susan Shie created a quilt called "Trayvon Martin: 8 of Wooden Spoons in the Kitchen Tarot," which depicts flowers, a heart, spoons who've witnessed the murder, a mother crying, President Barack Obama and the words on his face, "If I had a son, he would look like Trayvon," and stories written all over the colorful quilt.
Her quilt, said the Wooster resident, is a statement of grief.
Shie, a 63-year-old wife and grandmother, is a member of a quilting collective called "Fiber Artists for Hope," which started out as "The Obama Quilters." Fifty artists produced a show called "American Spring: A Cause for Justice," she said, which began after Trayvon was murdered.
"We're from all over the country," said Shie, a self-described liberal and feminist. "There are 24 people in this particular show right now and 35 in an online group. We do themes about social justice. We have black, white and Latina artists from all over the U.S., with one from England and another from Canada."
"Overall, the topic was crimes against young blacks and minorities. We started touring last summer. I don't know how Michael found out about us but I'm thrilled to be in this show."
As a Caucasian woman, Shie said, she's ashamed at the racism she's seen since Obama became president.
"I would like to have something very positive to say but I don't feel we're in a post-racial country at all," she lamented. "A lot of people I know turned out to be so racist. It was a blessing to have the March [on Washington] so soon after Zimmerman was set free and the Supreme Court ruled on the Voting Rights Act. They were two very negative acts overshadowed by the march."
"I don't know how much good it does but we have to keep on trying. It's so shameful and I'm white."
The exhibit occupies four rooms of the gallery's first floor and the artwork carries names such as "Justice Betrayed," "Sweet Tears of Justice," "Revolution," "Stand Your Ground," "Triumph" and "Involuntary Kinder Hood." Trayvon Martin's face as well as hoodies and Skittles, dead and dismembered bodies of children and other symbols of the murders of children of color dominate the artwork.
Brown said Trayvon's murder reminded him of the fragility of the black male's existence in the United States.