GOP Honors MLK, March
9/4/2013, 3 p.m.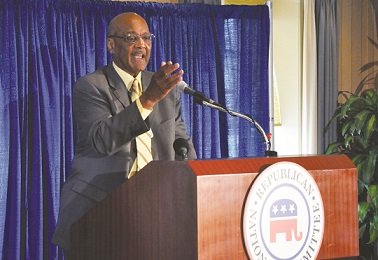 Robert L. Woodson admired Dr. Martin Luther King Jr.'s moral consistency and a willingness to step on sacred cows.
Last week, Woodson illustrated the latter during remarks at a luncheon hosted by the Republic National Committee. The event, honoring King and the 50th anniversary of the 1963 March on Washington, brought together Republicans, Democrats and representatives from civic, social and civil rights organizations.
Woodson, founder and president of the National Center for Neighborhood Enterprise in Northwest, apologized for being "the skunk at the garden party" for his less-than-celebratory comments.
"The King I remember was a man who was not content to be a reflection of majority opinion," said Woodson, 76. "We forget that the civil rights movement wasn't a monolith. There was great conflict and tension that defined the movement. Students challenged the slow pace of progress and King tried to convince them to take it slow. The Student Nonviolent Coordinating Committee (SNCC) and young people were the ones bitten by dogs and beaten back. SNCC, the Congress on Racial Equality and others were involved in this great debate."
What people should remember, Woodson said, is that most involved in the struggle didn't benefit from the change.
"For many, the dream for poor people has been a nightmare," he said. "Gays, immigrants, women, environmentalists – all have come before them. We never hear people talking about the problems of the poor."
What the GOP, Political Action Committees and other groups would have been smart to do, Woodson said, is to have taken a portion of the $1 billion they spent on attack ads in the 2012 general election and used it to invest in black communities and businesses.
"Both political parties should be competing on how they treat the least among God's children," he said, "We don't need outreach, but uplift."
As guests dispersed following the Aug. 26 luncheon, Reince Priebus' face wore a look of satisfaction and accomplishment. When he suggested three weeks ago that the RNC host the luncheon, Priebus said some tried to discourage him because of the Congressional recess and others thought it was just a bad idea. Priebus admitted to being nervous ahead of the luncheon, afraid no one would show.
"I wanted to come together to commemorate this historical week," said Priebus. "It was important for the party to do this. You can't make a sale if you don't show up and ask for an order."
"This is just a complete and total blessing to our party. In this room it's not 100 percent Republican. I know that a few Democrats came up to me and said, 'You know what? We're supporting this because if the Republican Party is not going to fight like crazy for every single vote in this country, if it's not going to fight like crazy for the African-American vote, then [Democrats will] just take it for granted.'"
Priebus, 40, said the gathering dovetails with his outreach efforts to minorities for whom the Republican Party isn't the first option.
"At our core, we're fighting for better ways to improve our country and we need to do more of it," he said of the outreach efforts.