GOP Honors MLK, March
9/4/2013, 3 p.m.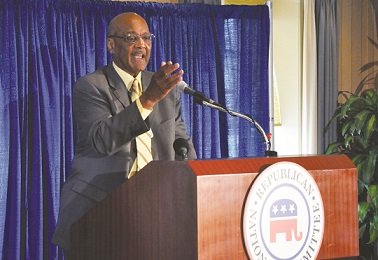 Priebus said, the event was an opportunity to put partisan politics aside, but that didn't stop speakers from espousing their party and gently skewering Democrats.
More than 250 people dined in a main room and an overflow room at the Republican Club on Capitol Hill in Southeast. GOP bigwigs like former Florida Congressman Allen West; D.C. GOP Chairman Ron Phillips; Priebus's friend and mentor Bob Brown; RNC Committee member Dr. Ada Fisher; the 34-year-old Oklahoma Speaker of the House, T.W. Shannon; RNC Co-Chair Sharon Day; Dr. Alveda King, niece of the civil rights icon; and younger party members such as John Burnett, running for New York Comptroller against former Gov. Eliot Spitzer in November; and John Campbell, also vying for a seat in the New Jersey Assembly.
"I'm thrilled and honored to celebrate the March on Washington," said Day. "It was truly a pivotal event in our nation's history. We honor the hundreds of thousands who raised their voices, took a stand. America, our America, is better off today."
Brown concurred.
"Fifty years ago, I was here in Washington with Martin Luther King and Wyatt Walker," said Brown, chairman and CEO of B&C Associates Inc., in North Carolina. "I was with the Student Nonviolent Coordinating Committee and did some marching. It was a revelation. We have so much to thank God for today. We've come a long way. There are a lot of people in this room who've sacrificed so much."
Brown spoke of an impoverished childhood and a path that led to the White House, activism, meeting President Nelson Mandela in Pollsmoor Prison in South Africa and bringing Mandela's children to the U.S. to be educated.
He said he's experienced life's highs and lows.
"My life has not been a crystal stair. I know what a billy club feels like on my head, and I know what the inside of a jail cell looks like," Brown explained. "My years have been filled with torment and anger but also success."
He lamented the partisan gridlock that has destroyed comity in the Nation's Capital.
"The White House and Congress need to remember that this country was built on compromise," he said. "And if we don't learn how to get it together, we're going to sink this ship. I know what we can do, what we're capable of and what we need to do. We need to get on with it!"
Rep. Jim Sensenbrenner (R-Wis.) promised to make restoration of the Voting Rights Act his top legislative priority. In June, the U.S. Supreme Court invalidated a key section of the law.
"… All the civil rights bills in the '50s and '60s were important but the most important was the Voting Rights Act," said Sensenbrenner, 70. "We have to take a monkey wrench, fix it constitutionally and make it impervious to the challenges that will be filed by the usual suspects."