Howard, Morehouse Ready for Nation's Classic
HBCU Football Teams Clash for Bragging Rights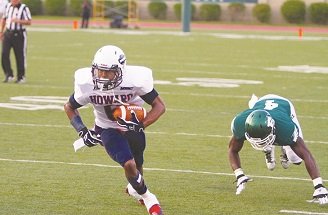 The long-standing rivalry between Howard University and Morehouse College is scheduled to continue this week as the two highly-respected programs from the country's Historically Black Colleges and Universities (HBCUs) gear up for the third annual AT&T Nation's Football Classic.
For the 3:30 p.m., Saturday, Sept. 7 game at RFK Stadium in Southeast, both squads return familiar faces as well as new players.
The Howard Bison scored victories in the first two years of the annual classic, including a 2012 nail-biter which saw the home team defeat the Morehouse Maroon Tigers, 30-29, before nearly 17,000 fans.
"We have a lot of great returning players, many of whom have been on the squad for two years," said Rayford Petty, 56, Howard's head coach. "With seasoned leaders on the team, and new freshmen, we're ready to focus on the fundamentals and get better as a team as we head into the beginning of the season."
Morehouse's squad boasts five preseason All-Conference selections, and head coach Rich Freeman said health issues contributed to a losing season last year, but the Maroon Tigers are poised for a big year in 2013.
"One of the things that we have to do is stay healthy," said Freeman, 40. "I feel like that was a factor in our lack of success, and we previously had five winning seasons."
While the game represents a crucial match and the continuation of the fierce rivalry, both coaches said they understand that many fans and others also are looking forward to a myriad of activities planned around the gridiron battle.
"We are excited to celebrate the HBCU football season with the community and proud of our continued support of education and the rich history of HBCUs," said AT&T spokesperson Jennifer Jones. "We look forward to seeing fans show us their school spirit."
Officials from Howard University and Events DC have organized several activities which are scheduled to begin on Thursday, Sept. 5, and include festivities on Sunday, Sept. 8, one day after the big game.
A Presidential Symposium that will explore topics highlighting the diverse contributions of HBCUs to the development of the country will be held at Cramton Auditorium on the campus of Howard University in Northwest beginning at 9:30 a.m., on Thursday.
Participants of the symposium will include Howard University President Sidney A. Ribeau, Paul Quinn College President Michael J. Sorrell, and Tennessee State University President Glenda Baskin Glover.
David Johns, executive director of the White House Initiative on Educational Excellence for African Americans, will moderate.
On Friday, Sept. 6, Cramton will also be the location for the Mordecai Wyatt Johnson and Benjamin E. Mays Student Debate, which will take place from 1 to 4 p.m. The debate will focus on solutions which address balancing national security interests with individual privacy and a single-payer funded health care system.
The debate will be open to the public and free to attend.
Also, on Friday, singer and songwriter Elle Varner is scheduled to perform at the, "Friday Night Lights," event, the official party of the Nation's Classic.