Howard, Morehouse Ready for Nation's Classic
HBCU Football Teams Clash for Bragging Rights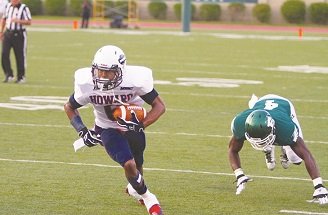 The performance will be held at the Howard Theatre at 9 p.m., and will be followed by an 11 p.m., late night party hosted by actor Lance Gross, of "Tyler Perry's House of Pain." The party will include WKYS 93.9 FM radio personality, DJ Money.
Tickets for that event are $22.50 in advance and $27.50 at the door.
Other celebrities confirmed for the week's events include Howard alum and actress Wendy Raquel Robinson, and Morehouse graduate, Fonzworth Bentley.
District favorites, Raheem DeVaughn and Experience Unlimited, also are scheduled to appear.
"Go Howard," said Robinson, who will assist in the opening game ceremonies on Saturday. "I am honored to return as one of the hosts of the kickoff rally and I think it's wonderful that AT&T continues to support HBCUs and education. I am pulling for Howard to get that three-peat this year," said Robinson, 46.
Festivities will conclude on Sunday, Sept. 8, with services at Howard's Rankin Chapel beginning at 11 a.m.
Still, all eyes will be on the big game.
Prior to the beginning of the classic two years ago, Howard and Morehouse hadn't played since 1997. Overall, Howard has won 13 of the 15 meetings between the teams.
"I'm excited to get this game back for our student body and our alumni. It gives us a chance to play against a team in a full scholarship situation and show what we can do," Freeman said.
Tickets for the game are on sale at the Howard University Box Office, located at Cramton Auditorium. Tickets, which begin at $25, are also on sale at www.ticketmaster.com.