KanKouran Celebrates Its 30th Anniversary in Style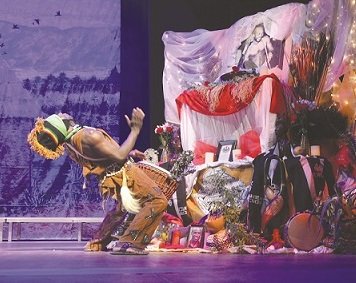 Guests were treated to the program's drum call, the Spiritual blessing, a musical dedication, and energetic pieces named KanKouran Mandikola, Lenjeng, Balanta and more
At the end of the performance, after recognizing recently deceased members of the company, the Senegalese High Commission, some instructors, members and two drummers Konte said spend more time at his home than anywhere else, his dancers surprised him with a special gift. They heralded his love, passion and dedication to his craft and all the dancers he has guided and nurtured.
"We thank you from the bottom of our hearts," the presenter said. "KanKouran is the foundation, it is our family wherever we may go. We're proof that the Spirit lives on and we're eternally, eternally grateful."
Konte then acknowledged the audience for their 30 years of sustained and enthusiastic support.
"I want to thank you for all these years," he said. "Thirty years is not one day. Everyone grew up in the company. I was getting ready to retire but I'm ready to bounce back. This performance was difficult for me. Usually, I'd be up doing everything but this is my time to mourn my buddy. I miss him, I love him … I'm surprised we're still here and we're still here because of the community of Washington."
"We go place-to-place to rehearse. We don't have anywhere but we have faith. In Africa, it's family – we like to share and keep family close. They leave and come back but the Spirit lives on at KanKouran."
Bishop Kwabena Rainey Cheeks, senior pastor at Inner Light Ministries in Southeast, smiled broadly during intermission.
"The energy of the show each year changes and gives you something different," he said. "I just saw the show Africa Umoja and the energy of that show matches what we saw tonight. The dancers are wonderful. Assane has done great work. Every year he tells a different story. You think you've seen it all but he comes and does something different."
Revered dancer Melvin Deal sat close to the stage watching intently, his head bobbing almost imperceptibly to the music.
Deal, 70, founder and artistic director of the African Heritage Dancers and Drummers which he established in 1959, said he gets great satisfaction from knowing the place African dance now occupies after decades of the art form being regarded as primitive, ethnic and lacking in credibility.
"It means that we've reached a point where we can enjoy our African selves without apology," said Deal, a dancer, choreographer and director for 57 years. "As I watched, I saw that God helped me lay the foundation. I don't take anything for granted. We celebrate our culture while the world sits on a precipice of destruction."