March on Washington 2013: The Aftermath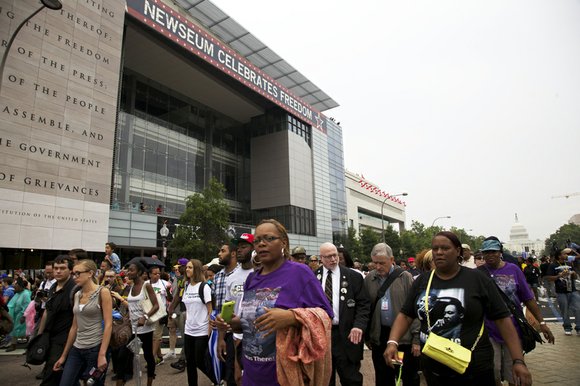 Labor leaders such as Lee Saunders of the American Federation of State, County, and Municipal Employees (AFSCME) and the National Federation of Teachers' President Randi Weingarten, echoed the anger and displeasure of the rank-and-file of organized labor at the assaults by the right wing against unions, but vowed to continue fighting to restore economic and other gains for the middle and working class.
"The promise is not real for people who work hard and play by the rules every single day, yet struggle to pay the bills," Saunders told an audience that stretched from the Lincoln Memorial toward the World War II Memorial and the dome of the Capitol. "The promise is not real for retirees who worked hard all their lives but don't know how they'll make it day-to-day. The promise is not real for students who graduate under so much debt, they wonder if they'll ever climb out of it. And if the promise is not real for all of us, it is not real for any of us."
In the face of retrenchment, hostility and a Congress that appears to be a wholly owned subsidiary of U.S. corporate interests, union leaders, civil rights groups and others spoke at both marches marking the March on Washington of the need to join forces.
"What a debt we owe to those people who came here 50 years ago. The martyrs played it all for a dream, a dream, as John Lewis said, that millions have now actually lived," said President Bill Clinton on Aug. 28. "So how are we going to repay the debt? Dr. King's dream of interdependence, his prescription of wholehearted cooperation across racial lines – they ring as true today as they did 50 years ago."
Janaye Ingram takes particular satisfaction in the fact the Aug. 24 March on Washington brought together more than 100,000 people.
Ingram, newly named national executive director of the National Action Network (NAN), was the lead person for all the logistics for the "National Action to Realize the Dream March," organized by the Rev. Al Sharpton and Martin Luther King III.
"I think a lot of people were unsure if we could reach 100,000 people but by every estimate I got, we had 200,000 and even the low estimates were about 150,000," she said. "I also heard that the messages the crowds heard were effective. People came together around certain issues seemingly not intertwined, but we were really able to lift a collective voice and say that we're going to fight for issues of concern to us."
Sharpton agreed.
"This, what we're doing Saturday, Martin Luther King III and I were determined that they would not hijack this anniversary and make it into something it's not," he said at a pre-march rally at Union Temple Baptist Church in Southeast on Aug. 20. "Some people want to commemorate and celebrate as if what they envisioned is here. It would be a betrayal as if [Dr. King's] dream has come."
"We're better off than we were but in a lot of ways we're not. When we're on a plane, there may be turbulence. Some of us confuse getting through turbulence as a landing."
It was impossible to ignore the large numbers of students and young people, including many from area schools and universities, who marched, worked and had a significant presence at both events. And in preparation, planning and implementation of the week-long events, young people and women were involved at every level, Ingram said.
The Rev. Bernice King, CEO of the MLK Jr. Center for Nonviolent Social Change in Atlanta, said it's time to pass the baton to "a new generation of people who must now carry that message in their time, in their communities, amongst their tribes and amongst their nations of the world."
"[My mother] reminded us that struggle is a never-ending process. Freedom is never really won. You earn it and win it in every generation and so we come once again to let freedom ring because if freedom stops ringing, then the sound will disappear and the atmosphere will be charged with something else," King said.