MARIAN WRIGHT EDELMAN: 'Where Do We Go From Here?'
Marian Wright Edelman | 9/4/2013, 3 p.m.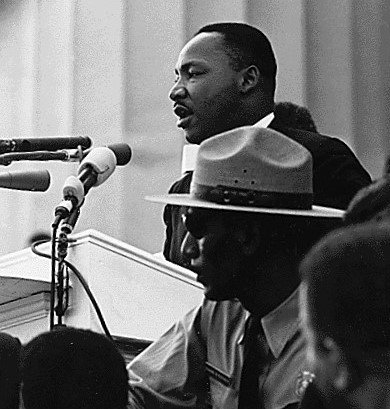 As the nation celebrates the 50th anniversary of the March on Washington, many are discussing what Dr. King would say to the nation and world today and tell us to do. But his message to us today is as clear as it was 50 years ago if only we could hear, heed, and follow his warnings about what we need to do to make America, America.
Just as Biblical Old and New Testament prophets were rejected, scorned, and dishonored in their own land in their times, so was Dr. King by many when he walked and worked among us. Now that he is dead, many Americans remember him warmly but have sanitized and trivialized his message and life. They remember Dr. King the great orator but not Dr. King the disturber of unjust peace. They applaud the Dr. King who opposed violence but not the Dr. King who called for massive nonviolent demonstrations to end war and poverty in our national and world house.
They recite the "I Have a Dream" part of his August 1963 speech but ignore its main metaphor of the promissory note still bouncing at America's bank of justice, waiting to be cashed by millions of poor and minority citizens. And while we love to celebrate his dream and great oratorical skills, we ignore his fears and repeated warnings about America's misguided priorities and values. He worried that we were missing God's opportunity to become a great and just nation by sharing our enormous riches with the poor and overcoming what he called the "giant triplets" of racism, materialism, and militarism.
In his last Sunday sermon at Washington National Cathedral, Dr. King retold the parable of the rich man Dives who ignored the poor and sick man Lazarus who came every day seeking crumbs from Dives' table. Dives did nothing. Dives went to hell, Dr. King said, not because he was rich but because he did not realize his wealth was his opportunity to bridge the gulf separating him from his brother and allowed Lazarus to become invisible. He warned this could happen to rich America, "if we don't use her vast resources to end poverty and make it possible for all of God's children to have the basic necessities of life."
The day he was assassinated in Memphis Dr. King called his mother to give her the title of his next Sunday's sermon. It was "Why America May Go to Hell." In his 1967 book Where Do We Go From Here: Chaos or Community? Dr. King stated that America hadn't yet committed to paying the real price—in actual dollars and cents—of equality: "The practical cost of change for the nation up to this point has been cheap. The limited reforms have been obtained at bargain rates. There are no expenses, and no taxes required, for Negroes to share lunch counters, libraries, parks, hotels, and other facilities with whites."
But, he said, "the real cost lies ahead . . . The discount education given Negroes will in the future have to be purchased at full price if quality education is to be realized. Jobs are harder and costlier to create than voting rolls. The eradication of slums housing millions is far beyond integrating lunch counters." He said the price would be great but so would the rewards. It would all come down to our will: "The great majority of Americans…are uneasy with injustice but unwilling yet to pay a significant price to eradicate it."
Fifty years later, we must not give up on building a just America that ensures a level playing field for every child and person. We must not let anyone tell us that our rich nation's vaults of justice and opportunity are bankrupt. And we must not tolerate any longer any resistance to creating jobs, jobs, jobs which pay enough to escape poverty, public and private sector, and providing the education and early childhood development supports every human being needs to survive and thrive. I hope we will commit ourselves on this fiftieth anniversary to building and sustaining a powerful transforming nonviolent movement to help America live up to its promises and forge the will to translate America's dream into reality for all. Let's honor Dr. King and save America's future and soul by hearing, heeding, and following our greatest American prophet.
Marian Wright Edelman is president of the Children's Defense Fund whose Leave No Child Behind® mission is to ensure every child a Healthy Start, a Head Start, a Fair Start, a Safe Start and a Moral Start in life and successful passage to adulthood with the help of caring families and communities. For more information go to www.childrensdefense.org.