More D.C. Schools on Extended-Day Schedules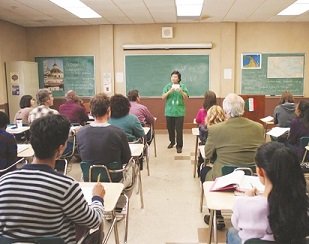 For most students and their parents, the first day back to school is always an exciting time.
But for many students, opening day on Aug. 26 at several District of Columbia Public Schools (DCPS) also meant an additional hour of learning.
"It came as a surprise when I took my grandchild to Simon Elementary on the first day, to learn that the day was being extended," said Southeast resident Angie Johnson. "They were handing out a paper with the new school hours and when I asked my daughter about it, she didn't recall being previously notified," Johnson said. "I'm not [necessarily] for or against the extra hour, but I understand it will replace the before- and after-school activities that [parents] usually [have] to pay for."
According to a statement issued by DCPS, nine schools will participate in the extended-school day program, which stems from the success of the program that was launched last year. "Expanding the school day allows schools to engage in more time on tasks, and gives teachers more time to teach," said DCPS spokesperson Melissa Salmanowitz. She added that sufficient notice had been given to parents regarding the new school day hours for participating schools which begins at 8:45 a.m. and ends at 4:45 p.m.
"[We notified them] in a variety of ways, [such as] through end-of-year flyers, PTA meetings, flyers posted in [school] offices, [and in notifications] at the time of enrollment and registration. [Parents also received notification via] robo-calls," Salmanowitz said
In addition to Simon, this year's participating buildings are C.W. Harris, Garfield, Nalle, and Orr elementary schools in Southeast; Noyes in Northeast; Kelly Miller and Johnson middle schools in Southeast; and Dunbar Senior High School in Northwest.

Chancellor Kaya Henderson acknowledged earlier that her decision to add more schools to this year's extended-day roster depended on accessing funds and negotiating with Washington Teachers' Union (WTU) officials.
"In [April] 2012, Chancellor Henderson created the 'Proving What's Possible' program [gleaned from the DCPS budget] and identified $10 million for schools to apply for a grant to innovate around time, talent and technology," said Salmanowitz. "Several schools chose to extend their school day using these funds and were very successful."
Seven of the eight schools that tested the extra hour during the 2012-13 term at a combined cost of $300,000, showed significant improvement on standardized tests.
For example, while students at C.W. Harris in Ward 7 posted significant gains among standardized test scores released in July – with math proficiency up to 11.9 percent and reading proficiency of 13.1 percent, students at Malcolm X Elementary School in Ward 8 achieved 13.1 percent in math and 20.2 percent in reading.
Overall, the "Proving What's Possible" initiative includes a set of goals to be accomplished by the debut of the 2016-17 school term – in accordance with Henderson's five-year reformation plan.
The goals include getting at least 70 percent of students proficient in reading and math and doubling the number of students with high test scores. In addition, the District's 40 lowest-performing schools will have increased proficiency by 40 percent, at least 75 percent of first-time freshmen will have graduated on time – and more importantly, DCPS will have significantly increased its enrollment.