A. Peter Bailey Contends Pooling Resources is Key to 'Dream'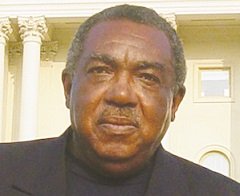 In the aftermath of the 50th anniversary of the March on Washington for Jobs and Freedom, many activists, participants, and others who attended the commemorative celebration continue their pledge to work toward the dream Martin Luther King Jr., spelled out at the original march in 1963.
However, others such as journalist and author A. Peter Bailey are quick to point out that even King realized a short time after his famous speech that the dream had become something akin to a nightmare, and African Americans needed to collectively flex their financial muscle.
"We as a people spend $600 billion a year and that is a lot of money and it should represent a lot of power," said Bailey, 70, a former editor at Ebony Magazine.
"We talk about King's dream and it seems like the only thing we took away from that important speech was, 'I have a dream.' We have not put into action anything that makes sense or anything that can help us."
Bailey said the money spent collectively by African Americans could be used more effectively not simply by supporting black businesses, but it could be used as leverage against established white businesses to demand high-level jobs for qualified persons of color.
A self-described "Malcolm-ite" who worked shoulder-to-shoulder with former Nation of Islam minister Malcolm X, Bailey said African Americans have been bamboozled into believing that voting and politics will change their lot in life.
He said the election of Barack Obama as the first black president proved nothing in the way of realizing King's dream and he decried the tears of joy shed by people like Jesse Jackson and Al Sharpton when Obama scored his stunning victory in 2008.
"Those who are serious about promoting and protecting the interest of black people should pay close attention to the one essential point that there can be no political power without economic power, only varying degrees of political influence. With economic power, there is automatic political power," he said.
"We seem to be happy with a little influence, but power goes a whole lot further than influence. Trust me," Bailey said.
One of the greatest achievements in history by a black person occurred on Oct. 31, 1919 when the first ship was launched by Marcus Garvey's Black Steam Ship Corporation as thousands of people watched on the a pier in New York's Harlem district, Bailey said.
"White newspapers splashed the news in disbelief all over the world. Black people rejoiced because the ship was designed to show what self-reliance could do. It was financed from its shareholders, all of whom were black. It was a classic example of pooling our economic resources and what doing so could accomplish," he said.
Bailey, a Northwest resident and Howard University graduate, served as a pallbearer at Malcolm X's funeral in 1965. He said he attended the 1963 March on Washington simply out of curiosity.
"I had never met King, I was with Brother Malcolm and I am a history buff and I knew this was going to be something historic, so I decided to get on a bus [from New York] and go," Bailey said.