A. Peter Bailey Contends Pooling Resources is Key to 'Dream'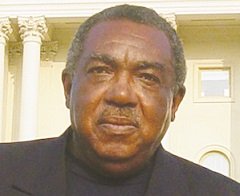 "I thought it was interesting to mingle with everyone and I think it is interesting today that King's message, is still reduced to just a dream. He's become a caricature and it's a shame because even those who profess to really know him, seem to forget that this was more than just a dream or a, 'I've been to the mountaintop,' matter for King. He spoke of needed changes just before they killed him," Bailey said.
The accomplished writer, whose latest book is titled, "Seventh Child: A Family Memoir of Malcolm X," said he recalled King telling a reporter about fighting fire-with-fire just one year before he headed toward Memphis, Tenn., to help union workers pursue better wages and job conditions. King's assassination took place on April 4, 1968 in Memphis.
Bailey said King had grown tired of the dogs being unleashed on civil rights activists and followers and the beatings they continued to endure during the struggle for equality.
The Nobel Peace Prize winner had seemingly began to rethink the non-violent approach he had preached about for so many years and King publicly doubted his "dream" would ever be realized.
A recently unearthed NBC News video verified Bailey's recollections.
During a May 8, 1967 interview, King told veteran correspondent Sander Vanocur that the dream had in some ways "turned into a nightmare."
During the conversation, King acknowledged the "soul searching," and "agonizing moments" since delivering his iconic speech four year earlier.
King told Vanocur that the "old optimism" of the civil rights movement was "a little superficial" and now needed to be tempered with "a solid realism."
And just 11 months before his death, he spoke candidly about what he called the "difficult days ahead."
Bailey isn't alone in his belief that King's message has been misrepresented and that African Americans have failed to collectively join together and pool their resources to demand economic parity.
"We must wake up and then get up and be about the business of economic empowerment regardless of who wins any election," said economist James Clingman, chairman of the Economic Development Committee of the National Association for the Advancement of Colored People in Cincinnati, Ohio. "We must not allow the hoopla of making history to divert our attention from the real action and that action is building, owning and controlling our own income producing assets," said Clingman, 69.
Also, being considered poor doesn't always mean being without resources," said economist Michael Shuman, founder of the Business Alliance for Local Living Economies, headquartered in Oakland, Calif. The nonprofit represents 30,000 local businesses in North America, scattered throughout 80 various communities in Mexico, Canada and the United States.
"Anacostia is one of the poorest neighborhoods in Washington, D.C., yet the total income of all its households is $370 million per year. Most of this money quickly departs in the hands of landlords, business owners, and bankers who live in more upscale parts of town," said Shuman, 56. "The principal affliction of poor communities is not the absence of money, but its systematic exit."
An economic policy remains the central agenda of all politics, because it determines who gets a slice of the pie, who gets a crumb, and who receives nothing at all, said The Rev. Earl Trent, pastor of the Florida Avenue Baptist Church in Northwest.
"The new agenda for black America must consciously replace the social agenda with an economic agenda whose central focus is how we can improve the state of the black economy," said Trent, 56.
Bailey said a slave mentality still exists which causes millions of blacks to shy away from taking the necessary steps to cultivate and protect their economic wherewithal.
"Black people have an extremely powerful, not influential, but powerful weapon which we don't effectively use," Bailey said. "That weapon is our individual and group economic resources. We spend too much time focusing on electoral politics and not nearly enough on wisely using the approaching trillion dollars that we gross annually in this country. Somehow many of us, despite strong evidence to the contrary, believe with all our hearts and souls that the path to equal rights, equal justice and equal opportunity lies mainly in electing people to political offices."