THE RELIGION CORNER: Fix it by Faith, Part 2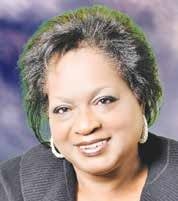 Last week, I shared with you how faith makes the difference. Though I wasn't planning to turn this topic into a series, the Lord directed my steps and inspired me to Google "Stories of Faith." As it turns out, there are pages upon pages of people, some famous and many regular folks with extraordinary stories. These are narratives about how "faith" has made the difference in their lives. Over the next few weeks, I will share some of them with you – it's my fondest hope that they replenish your spirit and motivate you to also adopt the mindset of "things not yet seen, but hoped for."
The first story was written by Olympic champion Gabby Douglas who won two gold medals during the 2012 Olympics in London. "Her unique blend of power, flexibility, body alignment and form has led her to be compared with three-time Olympian Dominique Dawes," according to an article published in American-Gymnast.com. Douglas is the first African American to make the U.S. Olympic women's gymnastics team since Dawes in 2000. Gabby broke new barriers, even surpassing Dawes, becoming the first African American to win the all-around Olympic gold medal.
Gabby was born with a desire to do something extraordinary; she tried to keep up with her brother Johnathan, climbing and jumping off closet doors.
Her older sister Arielle, a gymnast in her own right, had already mastered cartwheels. At age three, Gabby started to imitate her sister's moves. Then she did handstands, splits, back walkovers, flips. There's also significance in her name, Gabrielle, which mean "God's able-bodied one!"
"Mom, look at Brie," Arielle said. "She needs to be in gymnastics."
"Not yet," Gabby said. "Mom was protective of all of us, and maybe even more so of me, since I was the baby."
Not until Gabby was six years old, did her mother finally take her to a gym and sign her up. When Gabby saw all that equipment; beams, bars, trampolines, mats, and lots of space, she couldn't believe her eyes!
Gabby's attitude sometimes got in her way. Whenever she got grumpy, her Mom would turn to her big brown-leather Bible and pick out a verse. "All that negative thinking isn't going to do a thing for you," she said, and quoted Proverbs: "As a man thinketh…" As a teenage girl too!
"For I know the plans I have for you," declares the Lord, "plans to prosper you and not to harm you, plans to give you hope and a future." – Jeremiah 29:11 (NIV)
Her Mom knew how homesick Gabby would be, once she was able to send her to train in Des Moines, Iowa, with a coach who produced champions.
Still, she let Gabby go; but on that day in Des Moines, in the fall of 2010, Gabby said, "We hugged hard. I held her tight. She stepped back and cupped my face in her palms."
"I love you, baby girl," she said. "Remember, God is with you all the time. And you can Skype me or text me whenever you want."
Gabby's Mom and her siblings traveled to London to watch her compete. They stood in the stands cheering when the Fierce Five took the title, only the second U.S. women's team ever to win gold. But Gabby said, "I couldn't rest. I had the individual all-around final two days later."
The morning of Aug. 2, 2012, Gabby reached into her bag and pulled out the letter for the day. This one was from her Mom. She reminded her to be strong in the Lord, and quoted God's words spoken to Moses as the Israelites reached the Promised Land. Her Mom reminded her to be strong and to be bold.
And the rest is history. What a wonderful story! Gabby's Mom never lost faith, and wouldn't allow Gabby to lose faith either.
Encourage your children to "Fix it by Faith."
Lyndia Grant hosts a radio talk show at 6 p.m. on WYCB AM 1340, a Radio One station. Call Lyndia at 202-518-3192; or send emails to lyndiagrant@gmail.com.