SCLC, Rainbow PUSH Address Poverty, Voting Rights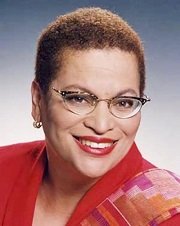 Two leading civil rights organizations teamed up to host town hall meetings on the eve of the 50th anniversary of the 1963 March on Washington to discuss two hot-button issues: poverty and voting rights.
The Southern Christian Leadership Conference of Atlanta (SCLC) and the Rainbow Push Coalition of Chicago held the forums on Aug. 23 at the Grand Hyatt hotel in Northwest. Julianne Malveaux, a nationally-syndicated columnist and economist, who lives in the District, moderated the panel on poverty.
"In 1963, black unemployment was 10 percent but this year, the unemployment rate for blacks is 13 percent," Malveaux, 59, said in her opening remarks. "If you consider the rate of under-employment in the black community, the rate stands at 25 percent. In some urban areas, black male unemployment is as high is 50 percent so while we have made great progress, we still have some ways to go."
The SCLC was founded by Dr. Martin Luther King Jr., in 1957 in Atlanta as a vehicle to push for civil rights. Rainbow Push Coalition of Chicago is a combination of two organizations founded by The Rev. Jesse Jackson in 1971 to promote political and economic parity for people of color.
Malveaux's panel consisted of Jackson, founder and president of Rainbow Push Coalition; The Rev. Frederick Haynes III, pastor of the Friendship-West Baptist Church in Dallas; former trial judge Penny Brown Reynolds of Atlanta and The Rev. Otis Moss Jr., of Cleveland.
Malveaux pointed out that low wages contribute to poverty and used a District controversy to bring the point home.
"In Washington, you have McDonald's and Wally's World [Walmart] that wants to pay its employees in the city the minimum wage of $8.25," Malveaux said. "You cannot live in Washington making that type of money. I think a wage of $12.25 is better but that is still not enough."
Haynes agreed, saying that Walmart is not the only large employer that doesn't pay its employees well.
"You can look at employees of the Smithsonian Institution," he said. "They are working for a federal contractor and they are getting minimum wage. Many people don't know this and this is why we need to learn to re-humanize the impoverished."
Jackson, who blazed a trail in American politics when he made serious runs for the Democratic Party presidential nomination in 1984 and 1988, said that the problem of economic inequality is broader than just worker's wages.
"Today, you have 22,000 car dealers in America with only 200 that are black-owned," said Jackson, 71. "Yet, 19 percent of the cars purchased are by blacks. The federal government bailed out American Insurance Group but they did not bail out Detroit or Birmingham (Jefferson County, Ala.).
Jackson suggested that civil rights activists need a new focus when they come to Washington to protest.
"We do not come to Washington for motivation but appropriation and legislation," he said.
Legislation is what may be needed to ensure that all Americans can exercise their voting rights, said several speakers during the next panel. Atlanta attorney Janice Mathis presided over a discussion of voting issues that consisted of Jackson, Hilary Shelton, NAACP Washington Bureau Chief and U.S. Reps. John Conyers (D-Mich.), Sheila Jackson-Lee (D-Texas), Corrine Brown (D-Fla.) and Hank Johnson (D-Ga.).