SCLC, Rainbow PUSH Address Poverty, Voting Rights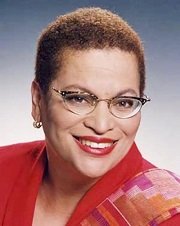 In June, the U.S. Supreme Court gutted key portions of the Voting Rights Act of 1965, saying that its pre-clearance requirements needed to be updated by the U.S. Congress. Conyers, 84, who helped to craft the landmark legislation in 1965, said that some members of Congress want to make it difficult for people to vote.
"There are [those] who are determined to turn the clock back like they did 50 years ago," he said. "They want to reduce the number of people voting."
Shelton said that there have been very few documented cases of voter fraud. Despite that, the governors of Kansas and Pennsylvania have pushed anti-voting methods such as limiting early voting and requiring state-issued identification cards in order for individuals to cast their ballots.
"That's just the thing," Shelton said. "Pennsylvania and Kansas have enacted laws fighting voter fraud when there is no instance of voter fraud."
Conyers said that he's working with U.S. Rep. James Sensenbrenner (R-Wis.) to create a bill that would meet the requirements that the Supreme Court requested. Jackson-Lee, Brown and Johnson cited examples of voter intimidation in their states and said that a new voting rights act is needed to protect people of color, students, the disabled and the elderly.
U.S. Rep. John Lewis (D-Ga.) has a bill, The Voter Empowerment Act of 2013, which would outlaw voter harassment; allow same-day registration and voting along with other pro-voting measures. Shelton said that Lewis's bill can become law if people mobilize and take action.
"We can win this fight if we are organized," Shelton said.