Young's Film Highlights Civil Rights in Alabama
Margaret Summers | 9/4/2013, 3 p.m.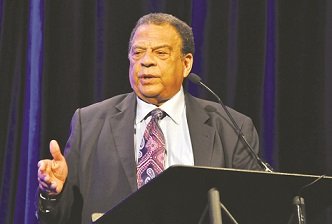 The seeds of the 1963 March on Washington were planted in 1941. Activists A. Philip Randolph and Bayard Rustin planned to bring 100,000 African Americans to Washington to protest discrimination in federal employment and defense contracting. Rattled at the prospect of a massive demonstration, President Franklin Roosevelt issued an executive order barring such discrimination. The march was cancelled.
But Andrew Young, former United States Ambassador to the United Nations, said those seeds took root in Birmingham, Ala., during a 1963 desegregation campaign. Young screened a one-hour documentary film about the Birmingham civil rights struggle, "1963: The Tipping Point," recently at the law offices of Hogan Lovells in Northwest. The screening on Aug. 26 was one of several events commemorating the 50th anniversary of the March on Washington.
"When African-American teens arrested in Birmingham 'D-Day' [Desegregation Day] Children's Crusade demonstrations were released from jail, they were mad," said Young, 81. "They were ready to take to Highway 11 (now U.S. 11 in Alabama) and march all the way to Washington, D.C. on their own. But Martin Luther King, Jr., whose Southern Christian Leadership Conference (SCLC) organized the Birmingham campaign, told them that was not the right way to do it." Instead, Rustin and Randolph helped create a more formal and organized March on Washington, Young said.
The film screening was sponsored by the Humanities Council of Washington, D.C. in partnership with the Atlanta, Ga.-based Andrew Young Foundation, which promotes and supports human rights, health, education and leadership in the U.S., Africa and the Caribbean, and CRP, Inc., a Silver Spring, Md.-based professional services and management consulting firm owned by women of color.
"I feel that the reason I've been left alive this long is to tell this story," Young told the audience during a question and answer session, after the film, moderated by WUSA-TV9 news anchor J.C. Hayward. "It began as a documentary about Reverend Fred Shuttlesworth, a civil rights activist in Birmingham, Ala., and it has a lot of interview footage with him." When Shuttlesworth died in 2011, said Young, "we tried to use the footage we had to complete the film."
The documentary highlights events in Birmingham which drew King and the SCLC to the city, particularly the bombing of Shuttlesworth's church, Bethel Baptist, three times. The first bombing, in 1956, completely destroyed his home, a parsonage attached to the church, but Shuttlesworth escaped unharmed.
In the film, Shuttlesworth said a white man told him to leave Birmingham for good. "I told him that if God could deliver me through this, I'm here for the duration, and the war is just starting."
Young, who narrated the documentary, said Shuttlesworth asked King and the SCLC to come to Birmingham to direct public and media attention to attacks on African Americans. "There were 60 bombings in Birmingham that we didn't know about in Atlanta (where SCLC was based)," Young said. But that would change with King in Birmingham. "I remember a news photographer, who followed Martin throughout his career, always kept his camera focused on him," said Young. "When asked why, he said 'If someone shoots King and I don't get it on camera, I'll lose my job.'"