Michelle Obama, Shaquille O'Neal Talk Fitness at D.C. Elementary School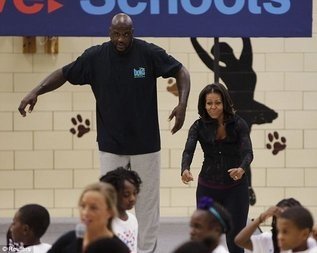 First lady Michelle Obama's childhood anti-obesity initiative is changing the way students in schools across the country and their parents think about health and nutrition.
As a result, students at Orr Elementary School in Southeast have become celebrities of sorts, having recently received White House recognition for embracing healthier lunch menus and eagerly engaging in physical education classes.
"I hope that every school in America will follow D.C.'s lead," Obama said in referencing the District of Columbia Public Schools (DCPS) system's revamped physical education program in an effort to get more of the city's students on the path to a lifetime of better health and eating habits.
"More than anything else, that's what 'Let's Move' has been all about," Obama said. "That has been our goal right from the very beginning – to ensure all of our children grow up healthy and have the bright futures we all know that they deserve."
The back-to-school event Friday, Sept. 6 at the Ward 8 school was part of Obama's four-year-old "Let's Move" program which is putting physical education programs back into schools and significantly reducing childhood obesity rates.
In addition to offering exercise activity during the regular school day, "Let's Move" touts physical fitness periods before and after classes.

In attracting the White House's attention, Orr offers nutritional snacks in vending machines, has added physical education classes to the 2013-14 curriculum, participated in the Reebok Foundation's exercise and nutrition program, and successfully adopted a new healthy school lunch standard.
Obama was accompanied by former NBA star Shaquille O'Neal, gymnast Dominique Dawes and sprinter Allyson Felix.
She said that since its launch nearly four years ago, "Let's Move" has prompted national fast-food restaurants to offer health-conscious children's menus, as well as the introduction of less-salt and sugar-free foods at cafeterias and diners.
Obama added that while 2008 through 2011 marked the first time in decades that obesity rates among children dropped in 19 states, Mississippi, which had been the least healthy state, now boasts a significant dip in childhood obesity.
"Make no mistake about it, we are changing the conversation in this country. We are creating a cultural shift in how we live and eat, and our efforts are beginning to have a real impact on our children's lives," Obama said, adding that parents and educators should encourage children to choose foods that are nutritious.

"New school lunch standards [that were] implemented this year [will] have resounding effects on our kids," she said. "The meals help kids feel good because they taste good." Nevertheless, "we still have a long way to go … we still have to encourage children to go outside and run," said Obama.
O'Neal, who's giving $1,000 physical activity grants to as many as 500 schools across the country, said his mother urged him to stay fit and make healthy food choices, and that it's incumbent upon other parents to do the same.
"As a parent, there's nothing more important than the health of my children and teaching them to [adopt] healthy lifestyles," said O'Neal, 41.
DCPS Chancellor Kaya Henderson also addressed parents, teachers, administrators and guests, during the hourlong program, saying DCPS is on its way to becoming the best urban school system in the country.
"We have to keep our kids moving and healthy," she said, explaining how her students are getting short activity breaks during the school day to "help keep the oxygen flowing."
Henderson stated earlier that money saved on the controversial school consolidations resulted in programs like 45 minutes of physical education every day for every student in most of the city's elementary schools.
"We just can't have all reading and math," Henderson said. "We have to have a rounded curriculum, so we were able to [add activities like physical education] to our buildings, which will help our kids excel."