Ben Jealous, NAACP President, to Resign
WI Web Staff | 9/8/2013, 4:47 p.m.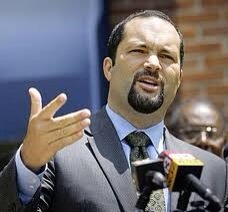 NAACP President and CEO Ben Jealous announced Sunday he will step down at the end of the year, citing family reasons for his departure after five years at the helm.
"Beginning next year, I look forward to pursuing opportunities in academia to train the next generation of leaders and, of course, spending a lot more time with my young family," said Jealous, 40, who was the youngest ever to head the storied civil rights organization when he assumed the position in 2008.
He will leave his post on Dec. 31, 2013.
Roslyn M. Brock, Chairman of the NAACP Board of Directors, accepted his formal letter of notice last week.
"We thank President Jealous for his time leading the Association," Brock said. "Under his leadership, the NAACP has built a highly competent staff that will carry our mission forward and meet the civil rights challenges of the 21st century. Our board, staff and volunteer leaders throughout the country deeply appreciate his sacrifice, and will continue to implement our game-changing goals for the next half century that include the restoration of Section 4 of the Voting Rights Act, implementing Trayvon's Law, bolstering civic engagement efforts and ensuring our community is enrolled in the Affordable Care Act exchanges."
During Jealous's tenure, the NAACP has won several state and local battles to abolish the death penalty, shrink prison systems, outlaw racial profiling, expand voting rights protections and reform gun laws.
"The NAACP has always been the largest civil rights organization in the streets, and today it is also the largest civil rights organization online, on mobile and at the ballot box too," he said. "I am proud to leave the [NAACP] financially sound, sustainable, focused and more powerful than ever."
The Rev. Al Sharpton, head of the National Action Network and longtime friend and collaborator of Jealous's on numerous civil rights issues and initiatives, including last month's commemorative March on Washington, said he had "mixed emotions" about the decision.
"I am happy that he has done so well and leaves his post with no scandal, shame, or physical challenges, and young enough to have a bright future," Sharpton said. "There is sadness, however, because for the last several years he has joined [National Urban League President] Marc Morial, [National Coalition on Black Civic Participation President] Melanie Campbell and me as we tried to broaden the civil rights leadership of the 21st century movement.
"Ben Jealous has operated with integrity and a real sense of hands-on activism," Sharpton said. "Not only was he able to revive the NAACP and raise its budget to higher heights, he joined us in the streets in real civil rights activity on the ground."