COMMENTARY: Week One to (Finally) End RG3 Speculation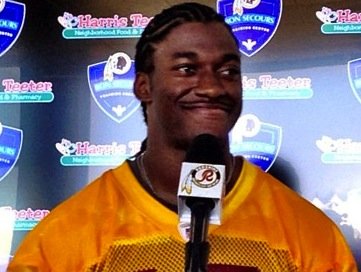 At last, we've reached the day of the Redskins-Eagles season opener. And unless you've been hiding under a rock somewhere, you know that Robert Griffin III is playing and Chip Kelly is coaching.
The NFL off-season has been inundated by stories about Griffin's recovery from his knee injury and whether he'd be ready to start for Week 1, and Kelly becoming the Eagles' head coach. Griffin's return and Kelly's debut will take place in front of millions on Monday night. Thus, you may hear their names mentioned a time or two during the game.
There's a lot of intrigue over how RGIII will perform in the opener. The general feeling is that he'll be fine as long as he avoids contact whenever possible instead risking injury to gain extra yardage.
On the other side of the ball, one of Kelly's greatest challenges has been dealing with all the time leading up to the game. After all, the season got underway four days ago. So, while everyone else has been "getting it on," Kelly and the Eagles have been trying to wait patiently for their turn.
Kelly chose not to disclose much of his offense in the preseason, and it is expected that the rhythm will accelerate and the menu of plays will expand dramatically.
Last season, Griffin electrified the NFL with his strong, accurate throwing arm and amazing ability to shred defenses with his legs before blowing out his right knee in a January playoff loss. Many Redskins fans have been anxiously waiting to see how Griffin moves on the repaired knee. Tonight, we'll finally get some answers.
The Redskins' rushing attack has a major advantage over the Eagles defense, which will make their play-action pass extremely dangerous. Last season, Washington led the NFL in rushing with 2,709 yards, including rookie running back Alfred Morris' 1,613 yards. And of course, there's Griffin, who's a constant threat to run the ball, particularly when they use the read option. But don't be surprised if Griffin exercises restraint while running the ball, even though the team says he's 100 percent.
Nevertheless, the Eagles must be ready for the play-action, especially if the Redskins' ground game is having success. Griffin does an excellent job of placing the ball in his running back's midsection, then removing it quickly and running the ball himself when he sees an opening in the defense.
The Redskins' passing game should perform well with the return of talented tight end Fred Davis and speedy wide receiver Pierre Garcon, both of whom missed much of last season with injuries. The Eagles don't have much speed in their secondary and depend on their physical ability to gain an advantage.
So, here we go, Redskins fans. It's time to buckle up and get ready for what should be an exciting season.