D.C. Mayor Gray and DDOT Celebrate 11th Street Local Bridge Opening
Local Bridge Takes Traffic Out of Local Neighborhoods and Connects Communities
9/9/2013, 11:48 p.m.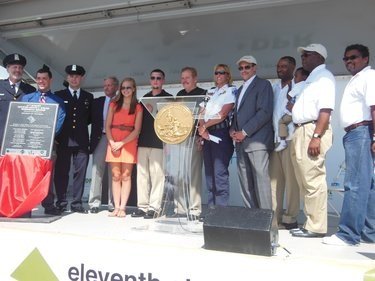 (WASHINGTON, DC) – Mayor Vincent C. Gray, District Department of Transportation (DDOT) Director Terry Bellamy, DDOT Chief Engineer Ronaldo "Nick" Nicholson, Metropolitan Police Chief Cathy L. Lanier and Federal Highway Administration (FHWA) D.C. Division Administrator Christopher Lawson joined residents and representatives of businesses from Anacostia and Capitol Hill at a community celebration marking the official opening of the 11th Street Bridge's span for local traffic. During the event, Mayor Gray dedicated a plaque naming the new local bridge as the 11th Street Officer Kevin J. Welsh Memorial Bridge. He also walked the bridge span and congratulated DDOT staff, contractors and crews on the substantial completion of Phase I work on DDOT's largest ever infrastructure project to date.
"Since construction on the 11th Street Bridge project began in 2009, it has been our vision that it would employ local citizens, spur economic development and contribute to the overall revitalization of our Anacostia riverfront," Mayor Gray said. "This project has exceeded our expectations by creating jobs in the District and, most importantly, connecting formerly disconnected communities."
The local bridge is being named for Metropolitan Police Officer Kevin J. Welsh, who died there in 1986 while attempting to assist a citizen in distress. Officer Welsh, a veteran of the Special Operations Division, drowned in the line of duty during a daring rescue attempt to save a suicidal woman.
"While many people run from danger, Officer Kevin Welsh went towards it and made the ultimate sacrifice," said Chief Lanier. "Officer Welsh was a devoted husband and father and his family legacy lives on, as his brother and his nephew are currently Metropolitan Police Department officers. We are pleased that he is being honored."
The 11th Street Bridge Project is the District's first river-bridge replacement in 40 years and the largest project in DDOT's history. The project is providing direct connections between DC-295 (Anacostia Freeway) and I-695 (SE/SW Freeway), diverting traffic from local roads. All proposed local roadways are completed and open to traffic, including formerly missing Interstate-highway connections, three new 1,000-foot bridges over the Anacostia River, and four new ramps for motorists to access historic Anacostia and Capitol Hill.
"The opening of the local 11th Street Bridge and the completion of this phase of work represents a huge win for these communities and the entire city," said Director Bellamy. "This new local bridge employed modern, state-of-the art design and design-build-to-budget construction methods that worked seamlessly to replace an outdated bridge with a beautiful new structure that provides direct Interstate-highway connections between Anacostia and Capitol Hill and removes highway through-traffic from local neighborhoods."