D.C. Mayor Gray Appoints Aguirre to State Education Post
Dorothy Rowley | 9/10/2013, 3 p.m. | Updated on 9/11/2013, 10:27 a.m.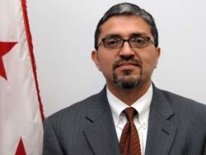 Jesús Aguirre, director of D.C.'s parks and recreation department since 2009, has been appointed as the city's first Latino state superintendent of education.
Aguirre, who was appointed by Mayor Vincent C. Gray, begins Oct. 1 at the Office of the State Superintendent of Education (OSSE). He replaces Emily Durso, who has served as the interim superintendent since June.
"Jesús has extensive experience in educational operations and administration and has a true educator's heart, and I think he is a natural choice to direct OSSE's efforts to ensure every child in the District has access to a high-quality public education," Gray said. "While he has done outstanding work as Department of Parks and Recreation director, this move allows him to once again employ his significant talents and experience in public education."
Aguirre, a longtime educator, is also the co-founder and executive director of one of the first charter schools in Arizona. He has extensive experience in school and district operations, teacher development and the creation of literacy and character-development programs.
"I am looking forward to Jesús joining the mayor's education cabinet and working with us to continue improving public education in the District," said Abigail Smith, deputy mayor for education.
Currently a resident of Ward 4, Aguirre relocated to the District in 2007 as part of then-Mayor Adrian Fenty's schools transition team, working as director of operations during Michelle Rhee's tenure as schools chancellor.
He earned a bachelor's degree in biology at the University of Texas at Austin and a master's degree in business administration at Arizona State University.