REVIEW: Debbi Morgan Masterful in 'Monkey'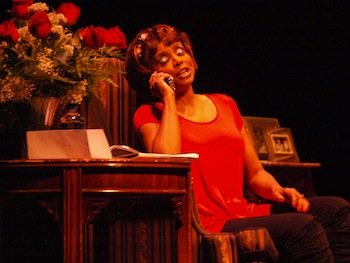 World-renowned actress Debbi Morgan — for decades a consummate performer in such pivotal films as "Roots: The Next Generation," "Eve's Bayou" and "The Hurricane" — is mostly revered for her role as Dr. Angela Hubbard on the popular daytime soap opera "All My Children."
But in her one-woman play, "The Monkey on My Back," which opened at the Publick Playhouse in Cheverly, Md., on Saturday, Sept. 7, she introduced audiences to the woman behind the celebrated character.
Chronicling a childhood wrought with fear and anxiety, "The Monkey on My Back" is a postscript to the lives of millions of children each year who grow up witnessing domestic violence. While the wounds of the (mostly) women who are the victims of physical and emotional abuse mend in their own ways, Morgan sheds much-needed light on the residual trauma inherited by children in these households.
Morgan offers an absolutely phenomenal performance in what is at once art and memory, literally suspending herself between the past and the present, moving from victimizer to victimized, all the while offering insight into the internal struggles she faced. Morgan is the embodiment of her grandfather, father and ex-husbands, as well as her grandmother, mother, and her own shifting self.
She metamorphoses from early childhood to adult actress during the 90-minute performance, demonstrating with each scene how the childhood fear of being harmed had saddled itself to her back and took reign over her decision-making, especially with regard to intimate relationships.
Morgan is funny, deliberately so, in what is at times a painful delivery. She is brutally honest about her own missteps, potentially cathartic for theater-goers who recognize pieces of themselves in her telling.
"The Monkey on My Back" will make audiences cry and laugh — and cringe. More importantly, it will open critical dialogue on the road to healing many families of domestic violence need. Morgan's performance is a living testimony that victims become survivors, and survivors can go on to live victorious and happy lives.
As an admirer of Morgan's work for years, her performance in "The Monkey on My Back" left me awestruck and pleasantly astounded. The depth and purity of her performance made it one of the most powerful I've seen in years. Simply put, she is superb!