School Districts Focus on Protecting Students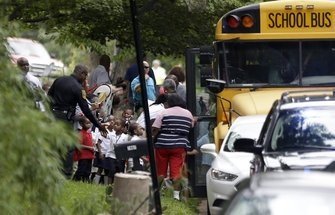 Many of the nation's school districts – including D.C.'s – still lack adequate plans to avert disasters or deal with their aftermath, despite the recent wave of school shootings and subsequent recommendations for child safety.

"Every school should have a safety committee composed of teachers and other school staff, parents, school administrators, public safety officials, students and community leaders," said Randy Weingarten, president of the American Federation of Teachers. "They should work together to develop a multi-hazard plan that is continuously reviewed, so that it is a 'living' plan that is regularly practiced, evaluated and changed based on circumstances."
The D.C. public schools system did not provide comment, but does has an evacuation and relocation plan in place. Its Emergency Response Plan and Management Guide, revised in 2010, is based on preparedness, response and recovery, as well as reuniting students with their parents in the event of a disaster.
But a report released this summer by Save the Children, a Connecticut-based children's advocacy group, outlines glaring gaps in emergency preparedness, response and recovery at schools across the country.
The report notes that 17 states don't require child care providers to have an evacuation plan, 24 states do not require child care providers to have a plan for children with disabilities, and six states and the District of Columbia don't require schools to have a disaster plan that addresses multiple kinds of hazards.
"It's important for students to get back into a safe learning and social environment after they've endured the stress and fear of [a disaster] where they've lost all of their things and people they know," said organization spokeswoman Tanya Weinberg.
The group recently launched its initiative that mobilizes communities to prepare for the protection of children during disasters, said Weinberg, who added the organization has served 500,000 children since 2005 when Hurricane Katrina struck.
The report includes a checklist for schools and childcare centers to determine the basics they need in order to prepare for disasters.
In addition to highlighting the numerous gaps in disaster preparedness that put children at risk, the 12-page document also points out that while 68 million children are separated from their parents every workday, 28 states and the District still fail to meet basic emergency planning standards for schools and child care centers as recommended by NCCD.
Overall, the number of states that meet all of NCCD's standards increased from four in 2008 to 22 in 2013.
In the meantime, many school districts across the country will re-open this fall with added surveillance cameras and beefed-up safety patrols.
President Obama has also called on administrators and law enforcement officials in agencies such as Homeland Security to reevaluate emergency procedures involving student safety.