D.C. Political Roundup: Orange Pressures Gray to Sign LRAA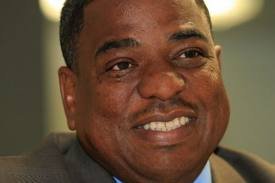 D.C. Council member Vincent Orange (D-At Large) is working feverishly to get Mayor Vincent Gray to sign the "Large Retailer Accountability Act of 2013" (LRAA) into law, requiring companies such as Wal-Mart to pay its District employees a living wage.
"We want to keep D.C. residents in the nation's capital instead of moving out to the suburbs to live," Orange, 56, said during a press conference at the John A. Wilson Building in Northwest on Sept. 3. "A living wage of $12.50 an hour, with two people [who] are married, comes out to about $52,000 a year and that is enough to buy a house in the District of Columbia."
The District's minimum wage is $8.25 an hour. The LRAA would generally apply to large retail companies like Wal-Mart and Target and not to small businesses.
The LRAA passed the D.C. Council, 8-5, on July 10 and the council is awaiting action by Gray. Gray, 70, said at his biweekly press conference earlier that day that he will sign or veto the bill by Sept. 16.
Orange and 25 of his pro-living wage allies delivered 36,917 messages in the form of signatures on petitions and printed emails, to the mayor's office on Sept. 3. Joslyn Williams, the president of the Metropolitan Washington Council of the AFL-CIO, said that Gray has repeatedly supported living wage legislation since he's been in politics.
"Gray supported the living wage in 2006 when he ran for D.C. Council chairman and in 2010, when he ran for mayor," said Williams, 63. "In 2011, he said that if Wal-Mart comes to town, it should include a living wage as a part of its community benefits package. I wonder has anything changed since then."
Orange said that Wal-Mart wants to come to the District because it's a profitable market.
"We have a large consumer base that has disposable income," the council member said. "A living wage is a fair thing to ask for. If Wal-Mart can pay its workers $10.75 in San Francisco and $10.00 in Santa Fe, why can't it pay $12.50 here?"
Orange, in a reference to Gray, injected mayoral politics into his remarks.
"I am helping to deliver 36,917 signatures to the mayor and he will need 36,917 votes on April 1" in 2014, Orange said with a sly smile.
Brown Talks about District Statehood Bills
District Shadow Statehood Sen. Michael Brown is gearing up for a busy fall, with a hearing on a District statehood bill in the U.S. Senate likely to take place and working to gain support in the Republican-led U.S. House of Representatives on a companion statehood bill that's authored by D.C. Del. Eleanor Holmes Norton.
"We have two bills pending in the Congress," said Brown, 60. "On the Senate bill, there will be a hearing in October or November and the majority leader has endorsed the bill. We do not expect to see any action in the House on 'The New Columbia Admission Act' but we are working with Del. Norton to get co-sponsors of her bill."