D.C. Political Roundup: Orange Pressures Gray to Sign LRAA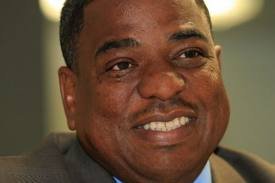 The Senate bill that Brown, who lives in Northwest, refers to is "The New Columbia Admission Act" authored by U.S. Sen. Thomas Carper (D-Del.) and is co-sponsored by 11 senators including Dick Durbin (D-Ill.), Barbara Boxer (D-Calif.), Patty Murray (D-Wash.) both Maryland U.S. Sens. Barbara Mikulski and Benjamin Cardin (D) and, Senate Majority Leader Harry Reid (D-Nev.).
In the House, Brown said that Norton's bill has over 50 co-sponsors, all Democrats.
Brown and his Senate colleague, Shadow Sen. Paul Strauss (D) and their House colleague Shadow Rep. Nate Bennett-Fleming (D) are hoping that if they don't get any action on statehood on Capitol Hill in the fall, they may find support in the John A. Wilson Building in Northwest.
D.C. Council member Vincent Orange (D-At Large) has authored a bill, "The District of Columbia Statehood Advocacy Act of 2013", that would give the statehood delegation $1.1 million in salaries and administrative support to make the case for District statehood. Brown remains hopeful that the D.C. Council will take up the legislation in the fall session.
"We had a hearing in July on funding the statehood delegation and I think it went well," he said. "We have five co-introducers of the bill and we are gaining support."